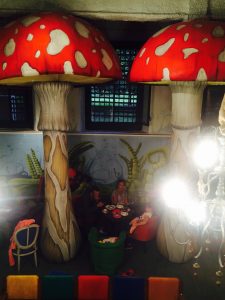 If you take a left on Passeig de Gràcia away from the temptations of the many designer shops to Carrer de Pau Claris 90, you will find a magical place at which to rest: the 'new generation coffee shop' Pudding. Inspired by the story of Alice in Wonderland, this unique café has a fun and very homely feel to it.
Founded on the basis that there are not enough spaces that are 100% child friendly, Pudding certainly fulfils this quota. The décor is that of a child's storybook, downstairs there's a huge table and area for children to play, colour and read safely whilst parents are able to peacefully catch up or have work meetings whilst supervising their children. Situated conveniently near to schools, Pudding even offers childcare services and party packages. (Full details available on their website). Not just a space for children and their parents, many students take advantage of Pudding's free wifi and many plugs to study and enjoy a piece of delicious cake.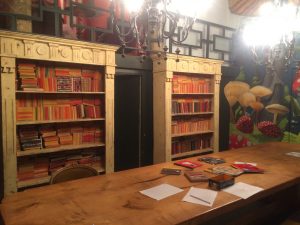 Pudding offers an extensive variation of meals. All the menu options come with a drink, there are salads, homemade quiches, a breakfast and brunch menu and of course a specially dedicated kids' menu. Pudding has developed to cater for a multitude of customers; all meat they serve is halal, there are also vegetarian and gluten free options. All their products are made fresh onsite with ingredients bought from local suppliers.
Pudding offers all types of parties from children's birthdays to baptisms, you can rent their space for book signings or meetings, they also house painting classes for adults.  The franchise also recently opened a new café at Avinguda Diagonal 515 which has three floors and a Harry Potter theme!
Hours of service are: 9am-9pm weekdays, 9am – 10pm Saturday and 9am – 9pm Sunday.
Pudding opens every day of the year except December 25th – so you can expect regular service during the holidays. Check their facebook page for regular updates.