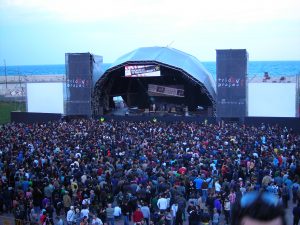 This June brings the 20th anniversary of Primavera Sound featuring all your favorite artists from June 3-7! This music festival has the perfect balance of pop and rock music making it enjoyable for all generations. The main stages are in Parc del Forum, but there are also other venues scattered across the city. The standard ticket price which includes all 4 days is 195 euros, but there are other options for those who want VIP, premium tickets or individual day passes.
Barcelona residents are in luck because discounted tickets are available for everyone who was either born in Barcelona or is a resident of Barcelona, Sant Adrià de Besòs, Badalona, L'Hospitalet de Llobregat or Santa Coloma de Gramenet. The discounted price is 180 euros and you must go in person to the Palau de la Virreina and present them with identification that proves you meet the requirements.
Primavera Sound Artists
To celebrate 20 years Primavera Sound has scheduled their best line up yet with big names s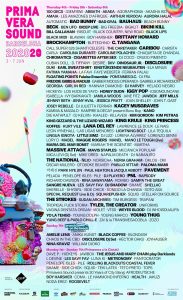 uch as: Tyler the Creator, The Strokes, Lana del Rey, Bad Bunny, and Iggy Pop. In past years the festival has created line ups to match the popular music of that year, however this year's line up includes the best music and artists from the past 20 years. This gives you the opportunity to reminisce and enjoy the tribute to the past 20 Primavera Sound festivals.
This year's festival also includes a new twist. The fun will be extended one extra day, ending with a party on the beach. Sunday the 7th will be headlined by a Disclosure DJ set, Nina Kravis, Amelie Lens and Black Coffee. This beach party is included in the full-festival ticket, but a limited number of single day passes will be available.
Like always, the party starts a few days before the festival officially begins. This year on June 1 Apolo will host the start of Primavera als Clubs until June 3 with performances by Rolling Blackouts Coastal Fever, Les Savy Fav, City Slang and more. Once the beach party begins to wind down, Apolo will also end the festivities with performances by several bands including Jawbox and Shame. All these additional concerts are included in the standard ticket price.
In addition to great music and celebrations, Primavera Sound has always made an effort to keep their festival green. Last year instead of plastic cups they only had reusable polypropylene cups. This development alone reduced light packaging waste by about 7 tons and won them the Greener Festival Award, which will continue to encourage music festivals to adopt more sustainable practices. This year Primavera Sound is continuing to work on additional improvements to reduce the environmental footprint.
Primavera Sound Accommodation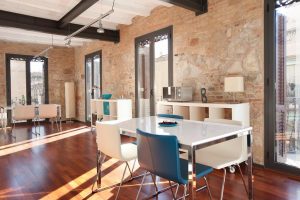 Looking for a place to stay during the festival? Apartment Barcelona has 15 great short-term rental apartments all in Poble Nou close to Parc del Forum. The apartments range in size and price, perfect for families or groups of friends! We also have hundreds of other short-term and long-term rental options available all over the city, so you will not have trouble finding exactly the right place for your stay in Barcelona.