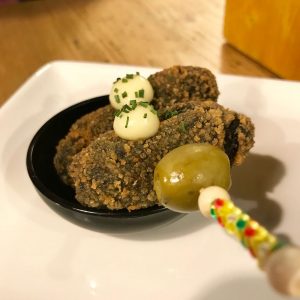 In a city as diverse and vibrant as Barcelona, navigating your way through its rich gastronomic offering can be as difficult as crossing the labyrinthine streets themselves. Hundreds of restaurants, cafes and bodegas entice you with a dizzying array of local and international cuisine and vintages. To help you through this foodie paradise is Play Tour Barcelona, whose expert local guides will teach you everything you need to know about Spanish wine and pintxos in a mere two hours.
Begin your exploration in the flourishing El Poble-Sec neighbourhood. Located just a short walk from La Rambla, this area of shady squares, outdoor terraces and elegant 19th-century architecture is less touristy than the better-known Gothic quarter or El Born. In particular, Poble-Sec is famed for Carrer Blai, commonly referred to as 'the tapas street of Barcelona'. This quirky strip specialises in Spanish wine and pintxos specifically, an Iberian cuisine originating in the Basque country. Essentially tapas on bread, pintxos can be sweet or savoury, hot or cold but one thing for sure is that they will leave your tastebuds singing with joy.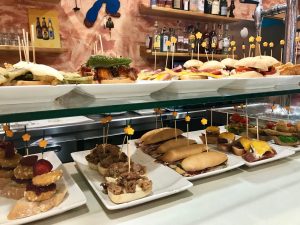 Your charming tour guide will take you to three of Carrer Blai's top spots for delicious traditional Spanish wine and pintxos. At each stop, you will have the opportunity to learn about Spanish cuisine and the nation's gourmet traditions – by experiencing them, of course. What's more, the small and intimate tour group size provides the chance to meet like-minded travellers, and to exchange anecdotes about your time spent in the Catalan capital.
We can assure you that an evening spent exploring the city's culinary delights with Play Tour will leave you a pintxos professional, a talented tapas taster, and a Spanish wine whizz! With a modest price of 33 euros, it's a small price to pay for a unique experience and treasured memories.