Barcelona, photography and electric bikes are combined into one top-rated experience with Photo Bike Tour. Get snapped at all the major sights of the Catalan capital whilst riding a comfortable and endlessly fun electric bike, whilst receiving a tour from a knowledgeable local at the same time. It is the best way to simultaneously see and learn about the city in a relatively short space of time, and receive high-resolution memoirs of your trip.
Photo Bike Tours is the brainchild of Alfredo, a traveller, enthusiastic photographer and Barcelona resident for the past 12 years. His knowledge of Catalonia is extraordinary, and you will learn many fascinating details about Barcelona's history and residents as well as its popular culture and urban myths. Not only will you visit the key monuments on your tour, such as the Sagrada Família, the Arc de Triomf, and the 1992 Olympic village, but you will also discover Alfredo's favourite picturesque spots. For instance, he may reveal to you an idyllic seaside location, normally only frequented by local fishermen, or perhaps a peaceful plaza where the iconic architect Antoni Gaudí unwound by listening to church music.
Rather than pedalling round the metropolis, most likely baking in the summer heat, Photo Bike Tours provides electric bikes for your comfort and ease. Five different settings offer varying levels of power to propel yourself throughout Barcelona, aided by the city's 200km of cycle lanes. Whilst there is not much difference between an electric and a regular bike, the boost of speed the former grants you makes the journey more enjoyable and remains novel throughout the entire four hours.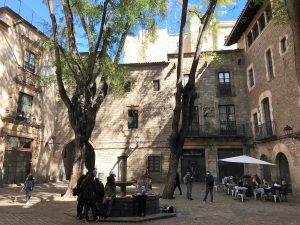 The Photo Bike Tour's concept also works extremely well in the Mediterranean city due to the fact it enjoys on average over 300 days of sun per year, and has a myriad of perfect photo spots. Central Barcelona is a labyrinth of Medieval streets, interspersed with Roman remains and Gothic architecture, all of which create stunning backdrops to Alfredo's photos of you and your loved ones. Alternatively, the beach with its iconic W Hotel foreground and distant Serra de Collserola mountain range, affords hundreds of incredible angles and compositions. Alfredo's skill ensures that you will leave the tour with a set of beautiful digital pictures to turn your friends back home green with envy.