The days of tourism have ended; the days of travelling have begun… At least, this is the maxim of wine-specialist travel agency Viemocions, who believe that people no longer want to see things as a mere tourist. Instead, Viemocions are committed to making you feel like a local during their multi-sensorial wine-culture orientated experiences. A prime example of this is their Penedès Bike & Wine option. This all-day trip combines a morning of cycling through the sublime home of cava with Biking Through Spain, followed by lunch, wine tasting, and a hands on tour with the innovative vineyard Artcava.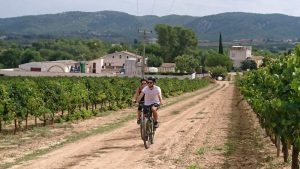 Biking Through Spain are experts in cycle touring and mountain bike tours, and are fully equipped to pick you up in Barcelona and drive you to Artcava, in the heart of the Penedès. From there you will saddle up on state-of-the-art mountain bikes and begin your exploration of the rolling hills, picturesque villages and ancient buildings of rural Catalonia. In an area known for averaging 325 days of sun per year, you can rest assured that your trip will be bathed in sunshine rather than rainwater and the beauty of the local vineyards will be unblemished by bad weather.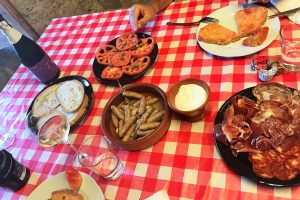 Following your experienced guide, the route and pace are flexible and can be tailored to your biking proficiency. The advantages of travelling by bike are manifold and a leisurely pedal allows you to take in your stunning surroundings far better than walking or driving. Remarkable features of natural beauty are commonplace in this area. For instance, the majestic sight of Montserrat mountain will soon become familiar to you as it serves as a dramatic backdrop throughout your trip. What's more, all of Biking Through Spain's guides are knowledgeable and highly familiar with their surroundings and will answer any queries you may have about the history, wildlife, culture and people of the Penedès. Any burning questions you may have about the produce of the vines themselves are probably best left until after lunch however.
After gazing upon miles and miles of vineyards and cycling around 20km (depending on your groups ability), you will return to Artcava to begin the second phase of your day. Artcava is a tiny operation in comparison to international competitors such as Codorníu or Freixenet, but this makes the tour all the more special as a result. Avoiding the mass tourism of the larger, heavily industrialised vineyards, Artcava provide an intimate experience where you will discover all the secrets of cava and its production process.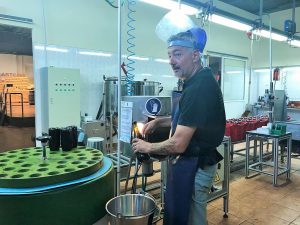 After refuelling with a glass of one of Artcava's lovingly made cavas, you will be treated to a tour of the ancient farmhouse and sit down for a homemade Catalan lunch. Whilst the menu changes daily, it is highly likely you will sample everyone's favourite pa amb tomàquet – freshly baked bread rubbed with tomato and garlic then sprinkled with salt and olive oil. Another authentic Iberian specialty, a selection of charcuterie is typically served, along with traditional Spanish omelette and garlic infused sausages. Your main dish may vary depending on the season and whim of Ramon the chef, but as befits a vineyard, it is quite possible that it will be cooked in cava – which as Ramon is quick to point out, is a white wine and as such, complementary to a wide variety of recipes.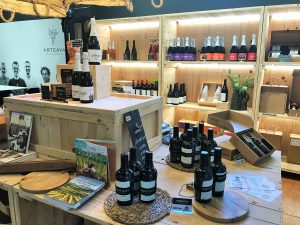 Post-lunch conversation and relaxation (accompanied by wine of course) is known as la sobremesa and on this tour, serves as a prelude to the best part: wine tasting. Your guide will literally walk through you through the cava production process, revealing the cava (Spanish for cave and the reason for the sparkling wine's name) where Artcava's thousands of bottles slowly ferment. Back above ground, Artcava let you get hands-on, disgorging your own bottle of cava manually before corking and labelling it, ready to take home – a generous addition not common on wine tours. You will also sample at least three of their vintages, learning the subtle art of a true sommelier, and gaining a greater understanding of the intriguing world of wine.
Finally, full of Catalan cuisine, Penedès cava and facts about the fermentation process, it's time to return to Barcelona, courtesy of Biking Through Spain's comfy minivan. The Penedès Bike & Wine Tour truly is an unmissable chance to immerse yourself in the charming life of the Penedès region, and learn a great deal about this ancient wine-producing region. Without a doubt it is one of the best wine-related tours you can find in Barcelona and is highly likely to be the pièce de résistance of your holiday.