At some point during your Barcelona vacation you will undoubtedly find yourself wandering the streets of the Gothic Quarter, searching for somewhere special to eat. When this inevitably happens, look out for Palosanto, a modern tapas restaurant serving top quality Spanish food, for both lunch and dinner. Choose between sitting in their informal indoor restaurant or outdoors in the bustling George Orwell square, and enjoy your meal whatever the weather may bring.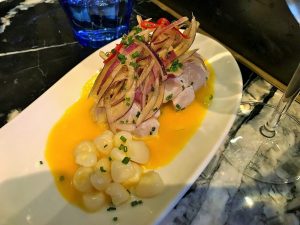 Palosanto is part of the San Telmo Group, a restaurant chain who treat their patrons to time-tested recipes, improved and updated to satisfy contemporary paletes. True to tradition, Palosanto's menu is short yet bursting with diversity, covering all the typical local fare along with some more elaborate additions. Instantly recognisable dishes such as patatas bravas can be ordered alongside healthy plates, such as delicately marinated tuna tossed with quinoa and a soya dressing. Three different variations of 'dashed' eggs show the popularity of this Catalan favourite, and may come peppered with delicious Iberian ham if you prefer. For those looking for a reminder of home, Palosanto's eco burger, complete with double-fried chips will cure any feelings of homesickness.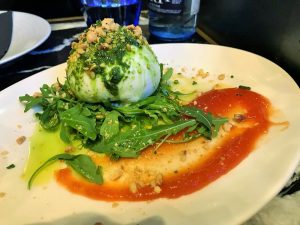 Surprisingly for a Mediterranean city, al fresco dining areas are not as common as you might expect in Barcelona and so the added charm of Palosanto's outdoor seating area is not to be overlooked. Find this extra seating at the rear of the restaurant in the sun trap of George Orwell square. This pedestrianised plaza is a relaxing space in which to sip a sangria and wait for each round of tapas to arrive. Even better, the terrace is open all year round – ideal for a city with 300 days of sun per year!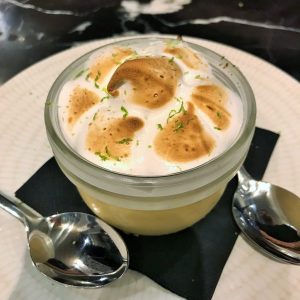 The list of desserts on offer at Palosanto is another unmissable reason to visit the restaurant. San Telmo Group venues are renowned for their lemon pie and Palosanto is no exception, serving a crunchy biscuit base, topped with a light and zesty lemon cream. Alternatively, choose between cheesecake, chocolate ganache and various other sweet treats to conclude your meal in guilty indulgence.