When the majority of people think of Spanish cuisine, their first thought is paella. This iconic dish, hailing from the region of Valencia, has become an international restaurant favourite and undoubtedly the best-known Spanish recipe. Taking advantage of the desire most tourists have – to learn how to make a delicious authentic paella – Alex Betolaza and Alex Villar of the Paella Club have been providing the premier cooking class experience since 2017.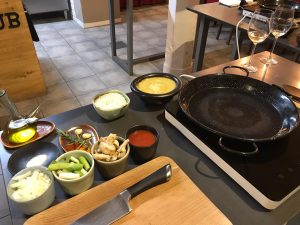 As soon as you arrive for your Full Menu Experience at the Paella Club you will be welcomed in the most traditionally Catalan way: with a glass of cava. As your group for the evening arrives, take some time to explore the intriguing Paella Club space with its interesting collection of photographs, sculptures and even a swing! Some of the adornments include maps of the wine producing regions of Catalonia and as the class commences, you will be taught about the origins of the important wines and cavas you will try throughout the evening.
Once it is time to start cooking you will team up in pairs and choose a workspace to share. Each couple will create their own paella using a variety of ingredients so that all guests are able to learn how to make more than one variation. Even better, this means that after the workshop everyone can sample the different rice dishes accompanied by additional courses prepared by either lead chef Alex Betolaza or Alex Villar. This is perhaps the most important lesson to be learned – that the gastronomic tradition of paella making and eating is that of a communal, sharing experience.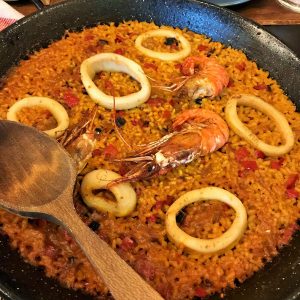 During the cooking process, one of the two Alexs will supervise and teach the class in an interactive and informal manner. Expect to learn about the complete history of paella, from its origins in Valencia to its international spread through the Spanish diaspora. More than this however, you will receive an engaging education on various elements of Spanish culture, including flamenco music and winemaking.
As the mouth-watering aromas of fresh local ingredients fill the room, your appetite for the all-important tasting phase of the evening will grow. Accompanied by yet more wine, you will enjoy a five-course meal beginning with the staple from the Spanish Civil War era, pan con tomate. Discover the reason behind the popularity of this simple snack as you sprinkle rock salt and drizzle olive oil on crispy toast. Following this hors d'oeuvre, try another renowned local recipe – gazpacho. It's likely you have tried this simple soup before, but until you've tried one made by a Michelin star Spanish chef, you cannot truly appreciate its delicate blend of flavours.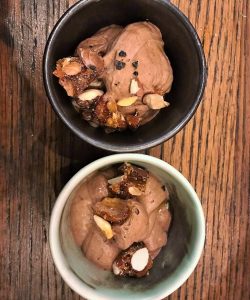 Finally, it will be time to find out how your cooking skills have fared under the chef's watchful gaze. Anticipation is high as the steaming dishes are served and everyone gets to sample the fruits of each other's labour. Rest assured, every paella will be incredible but what is surprising is the diversity in flavours between the varieties. A meat paella based around chicken or pork may have a smokey quality completely absent in a traditional seafood paella of king prawns and squid rings, which may in turn have a salty fresh flavour all of its own.
Once you're fit to burst with the best paella of your life, Alex Betolaza or Alex Villar will tempt you with another two irresistible courses. This time, a refreshing palette cleanser of mango, tequila and lime juice sets you up for a final dessert of hazelnuts, chocolate mousse and olive oil. As you count the impressive number of cava and wine bottles piling up throughout the evening, you will probably be surprised to realise how quickly time has passed and feel it's time to head back to your hotel. Leave the Paella Club equipped with a detailed foundation of Iberian cuisine and a detailed knowledge of the prince of Spanish gastronomy: paella.