Estrella reigns supreme in Barcelona, where it is sold in every corner shop and served in virtually every bar and restaurant. For those hailing from countries with strong beer brewing traditions such as the UK, France and Germany, this lack of variety can become somewhat monotonous. Providing a distinctly Teuton event in the Catalonia heartland every autumn, from the 4th – 14th, Oktoberfest offers steins of beer served by Lederhosen-clad staff, every type of sausage imaginable and quality live music.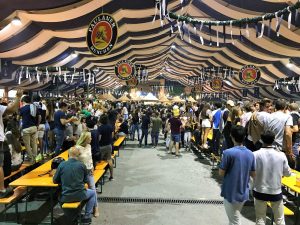 Where can you find this lively event? Head to Fira Barcelona where you will find biergarten benches laid out beneath an enormous tent, surrounded by stalls selling litres of ale or hearty platters of Bavarian grub. The event begins at either 12:00 or 17:00 depending on the day and inevitably engenders a merry energetic atmosphere within minutes of opening. A central podium is the source of constant entertainment, ranging from costume competitions to international bands, though amongst the spectators is where the singing is loudest and the dancing most enthusiastic!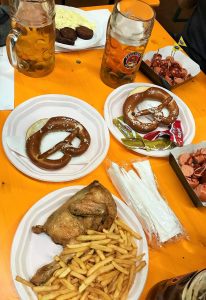 The gastronomic offerings at Oktoberfest Barcelona are much as you'd expect from a Germanic event. Bratwurst, frankfurters and currywurst feature strongly on the menu, though other options such as Danish frikadellen with kartoffelsalat (a kind of potato salad) may also be ordered. For dessert, what could be more appropriate than apple strudel with vanilla ice cream – though remember to save room for beer!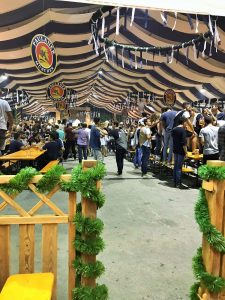 Of course, the primary attraction for many people are the 1 litre steins of golden coloured, frothy topped bier. Five different types are served, ranging from light lagers to dark ales. A non-alcoholic Heineken is also available, along with a gluten free Cruzcampo to ensure that nobody is excluded from the festivities. If you're not a beer fan this is perhaps not the event for you, although soft drinks are also provided.