Set back from the Carrer del Dr. Fleming avenue in the upmarket Sarria-Sant Gervasi, Nuba restaurant Barcelona has a striking and commanding presence. This converted country house has been renovated beyond recognition, in an ultra-modern contemporary style, creating a cocktail bar-restaurant that serves international cuisine to the affluent and trendy clientele of Barcelona. Elegant and exclusive, Nuba welcomes those looking for creative Mediterranean haute cuisine, reimagined with Asian and French influences.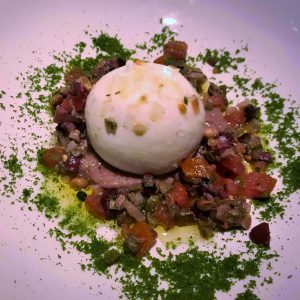 Nuba has a multifaceted design, encompassing a lounge area, cocktail bar, open-air terrace and of course, the spectacular restaurant. These features create a thriving meeting point for those seeking exclusivity and glamour outside the city centre. What's more, the ambitious design, decorated by Estrella Salietti, has attracted wider attention to this dining hotspot. This sophisticated eatery recently enjoyed international recognition by the 'World's Finest Clubs' – a network uniting chic, fashionable clubs. At lunchtimes, businessmen favour Nuba for its quality cuisine, enjoyed on either the elevated terrace or around the many indoor tables. Meanwhile, by night, the restaurant offers a vogue, metropolitan hub in upmarket Barcelona, before turning into a vibrant cocktail bar.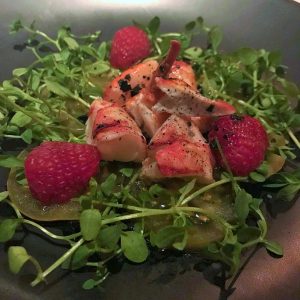 Boasting authentic Mediterranean fare, featuring Spanish specialities such as ham croquettes and pan con tomate with jamón ibérico as starters, Nuba's culinary offerings are unmatched. However, in keeping with the restaurant's cosmopolitan vibe, the menu also offers international recipes of exceptional standard. A notable and healthy example of this diversity is their quinoa with king prawns, mint and mango concoction; a light yet flavoursome alternative to Iberian cuisine. Also, their creamy burrata with tomato tartare, anchovies and capers comes highly recommended by the staff as another fresh and wholesome plate, beautifully and deftly arranged.
A plethora of seafood options suggest Oriental influences, and you can order popular sushi dishes such as red tuna tartare with market-bought avocado. On the other hand, recipes from across the Pyrenees are also available for those adverse to fish-based plates. Try their succulent beef tenderloin with potatoes au gratin for a divine main course of more Northern European origin. To accompany, they offer an impressive collection of wines, the majority harkening from famous vineyards of Spain, but also featuring select Italian and French vintages.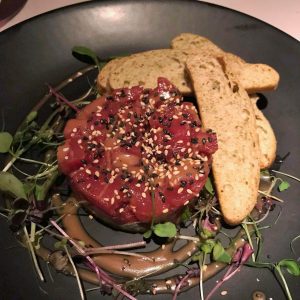 An advantage of dining at Nuba is that their carefully cultivated suggestion-of-a-club vibe creates an ambience conducive to staying after your meal for exotic cocktails or artisan gin and cocktails. It is overwhelmingly tempting to swap your table for one of their inviting leather sofas, and join the locals in lounging back to soak up the classy, chic setting.