Ever dream of going to a club that not only has an incredible musical background, but also the high-quality facilities to produce multiple exciting shows simultaneously?  Look no further than Razzmatazz, a gem of a building located in the neighborhood of Poblenou.  The Razzmatazz club has been around since 2000, and was the first club in Spain to be open all days of the week while concurrently running five different shows.
5 Clubs in 1 Location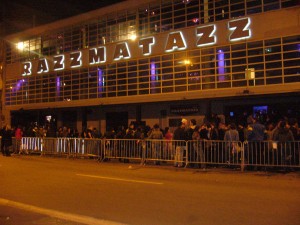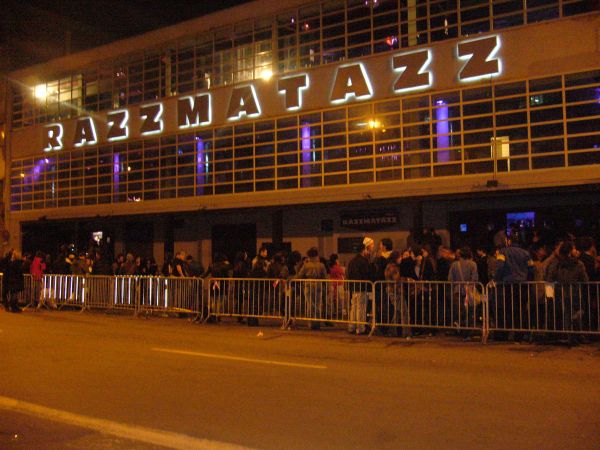 "How can a simple club host five different acts at the same time?" you may ask.  That's the beauty of this prestigious location.  Where other clubs may have one or even two different locations that can host an artist, Razzmatazz offers a whopping five separate areas for all of your musical needs.
The Razzclub, the largest of the five locations, focuses primarily on the European indie and pop-rock scene, where fans and fellow clubbers can enjoy themselves on the huge floor space to the sounds of artists like Arctic Monkeys, Foals, Bloc Party, Two Door Cinema Club, Calvin Harris, and Passion Pit.  Not feeling like standing in the middle of a huge crowd?  Then take a seat on the second floor, with an amazing view of the stage and whatever exciting act you decided to see.
Slightly smaller and aimed towards a different crowd, The Loft is for those of you who are techno, hard-techno, tech-house, electro and dubstep fans.  The thick concrete walls of this area create a massive sound that only brings out the best qualities of artists such as Skrillex, Skream, Dirtyphonics, Tiga, and much more.
If you are more into dancing and underground clubbing, Lolita is the place for you.  Lolita houses some of the newer acts coming to stage from all sorts of electronic, dubstep, hip hop and house genres.  Some previous acts have been Justice, Aeroplane, Crystal Castles, Tiger & Woods, and Who Made Who.
The room with a view, the Pop Bar, is true to its name as it holds pop acts from all over the decades.  Sporting a fantastic crystal wall facing the outside street, this smaller room provides a more intimate setting while still creating a partying atmosphere for acts such as Gossip, Citizens, Ladyhawke, The Teenagers, and Florence & The Machine.
If even all of these acts isn't enough for you, or you're just not sure what you're looking for, try the Rex Room.  The Rex Room is for artists of the genres not played in the other four areas, and hosts new and upcoming artists who will surely be at the top of their respective genres in the future.  Some previous acts that came through this area are: Jacques Renault, Mighty Mouse, Plastic Plates, and Villa.
Tips and Tricks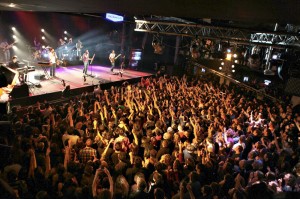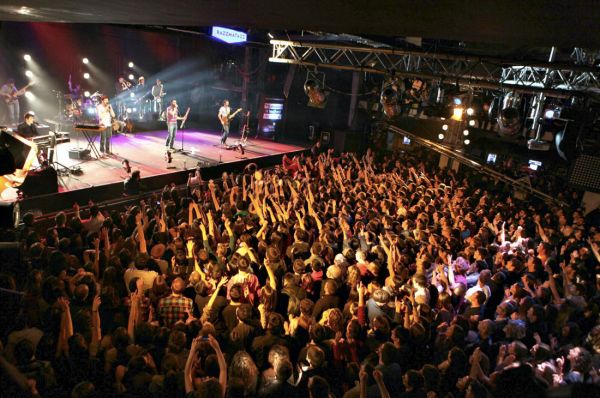 If it is your first time to Razzmatazz, here are some tips from fellow clubbers and yours truly:
Don't check your jacket, waiting in the coat line can take forever after a show.
Don't wear heels or white shoes, each of the rooms is connected by stairs and wearing uncomfortable shoes can make that a pain.
Get there early before a show: not only do the rooms fill up quickly, but the layout can be a bit confusing as well.
Check out the artists before you go, all of the upcoming artists are posted here
As with any club, watch your items! No one wants to end the night missing something.
Interested in seeing what Razzmatazz or other musical venues like it might hold in store for you?  Take a look at our list of upcoming shows, and let us know what you think in the contact us!
Think you'll get hungry before or after your Razzmatazz experience?  Check out our list of restaurants in Poblenou to get the insider view on fine dining in the area!