If there's one thing Barcelona knows how to do well, it's how to throw one hell of a fiesta, and New Years Eve is no exception. Bid farewell to 2015 and say 'Hola!' to the New Year at one of the fabulous celebrations taking place across the city. And what's more, this year promises to be the Catalan's capital biggest and most spectacular New Year's Eve yet, with more partying and extra sparkle than ever before. We've selected the best spots in Barcelona for you to begin your year with a bang, and provided everything you Barcelona newbies need to know about celebrating New Year's Eve in Barcelona.
What to do in Barcelona on New Years Eve 2015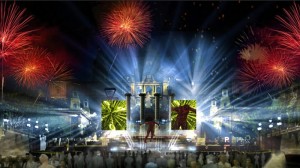 Barcelona New Year Chimes Celebration: Following last year's huge success, the city's official New Year's Eve Party will return once again for another unforgettable night. Held at the Montjuïc Magic Fountain near Plaza Espnaya, there will be entertainment for the whole family to enjoy with live music, concerts, human towers and a spectacular water and light display. The city's most anticipated countdown to midnight begins at 11.30pm with two big screens, and when the clock strikes 12 prepare to be amazed by the fabulous firework display. It is recommended to arrive at least an hour before the show is scheduled to begin so you can grab yourself a prime spot by the fountain. As unfortunate as it is, especially as it's New Year's Eve, alcohol is not on sale here and glass bottles are not permitted in the spectator's area. There will be entrance checks, so don't try and pull a fast one as you will be caught out!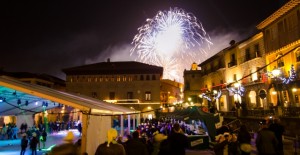 Noche Vieja New Party (Poble Espanyol): For over 25 years, this party has sent crowds in to a frenzy with people flocking from all over the world to attend Barcelona´s biggest, and most popular, New Year´s celebration. Begin partying at 10.30pm and continue the fiesta 'til 6am at this Spanish village-come-open-air museum that spreads across 3 indoor venues. There will be plenty in the way of booze, fun and music with an entrance fee of only 35€ which includes 4 drinks, grapes, hot chocolate and other special surprises that you can find on the night! So give 2016 the welcome it deserves and celebrate the New Year in style.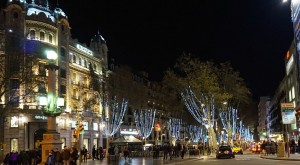 Plaça Catalunya: As with any big city, people like to gather in the centre to ring in the New Year so it comes as no surprise that Plaça Catalunya is absolutely heaving at this time of the year. If you're wanting to celebrate with lots of people in a lively atmosphere, this is the place for you, but don't say we didn't warn you! If you happen to forget your cava, do not fear, as with Las Ramblas just a few steps away, the city is your oyster. There are tons of bars, pubs and clubs within a few minutes walk to satisfy your drinking desires and where you can dance the night away.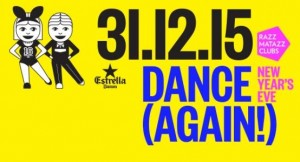 Sala Razzmatazz: What better way to see in the New Year than with plenty of razzle dazzle at one of Barcelona's favourite nightclub's, Razmatazz. Celebrate the countdown to 2016 with the dirty dancing crew and enjoy a spectacular fiesta with champagne, grapes, a free t-shirt and a party bag all included within the entrance fee (50€ for an advance ticket after 10.30pm). After midnight, roam from room to room whilst showing off your best moves at Razzclub, The Loft, Lolita, Pop Bar and Rex Room. Dance until sunrise at 6am where resident DJs will be spinning their freshest new beats allowing you to begin 2016 in style.
W Hotel: If you're looking for a more exclusive welcome to the New Year and in a truly luxurious setting, W Hotel is probably your best bet. At the top, sitting on the 26th floor, is the stylish Eclipse Bar where you can enjoy a relaxed evening of sipping cocktails whilst overlooking spectacular, panoramic views of the city and Mediterranean coastline. There will be special performances in the North Room by BIG MIL, Krugger & Kunta and in the South Room, Uri Mood will be performing. Alternatively, you can also welcome the New Year in the chic W lounge with DJ Geena. Either way, spending your New Years Eve at Barcelona's trendiest hotel would certainly be a memorable one. Drinks aren't cheap but for an unrivalled view of Barcelona it's definitely worth splashing the cash to make your New Year's Eve that extra bit special.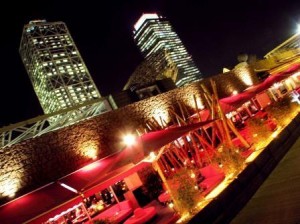 Barcelona Beach Clubs: The summer may be long gone but even in December there's still reason to go to the beach over anywhere else. Vila Olímpica is always buzzing on New Year's Eve with a great atmosphere especially from 2am onwards when the party gets into full swing. Expect the waterfront to be filled with people as they spill out of the many cool bars and clubs that line the beach including Opium Mar, Carpe Diem, Pacha and Shoko. As always, the beach clubs will be hosting themed events and playing some of the hottest tunes of 2015 allowing you to say goodbye to 2015 and welcome 2016 in style.
How to Celebrate Barcelona Style
New Year's Eve Dinner: Lots of locals prefer to gather together with family and friends and celebrate New Year's Eve in the comfort of their own home with a large, home cooked dinner. There's no traditional meal for the 31st December, but people generally like to splash out and have something a little more elaborate and expensive than they usually would. Seafood is often a popular choice.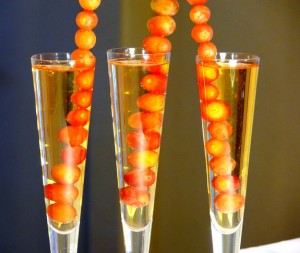 The 12 Grapes and Cava: A tradition that began in the late 19th century is to eat 12 grapes with the stroke of the 12 bells at midnight, without choking, for good luck. The grape munching is actually a lot trickier than it sounds so perhaps give it a whirl beforehand so not to embarrass yourself in front of your midnight kiss! Follow your speedy grape eating by toasting the New Year with Cava with a ring inside the glass. This is said to bring wealth and prosperity in the coming year.
Red lingerie: Traditionally, red symbolises prosperity, especially in terms of love, so it's no wonder that each year people take part in this tradition. Legend holds that wearing red underwear will also guarantee you a year of good luck so you'd be a fool to turn down such an opportunity!
Top Tips
Taxis can be expensive at the best of times so try and avoid using them on what is notorious for being the most expensive night of the year. Luckily, the metro will be running all night allowing you to easily party hop across the city. As with every New Year's Eve, most metro stations will be swarming with people so make sure to leave extra time for travelling.
If you fancy beginning your evening by eating out, make sure to book a table well in advance as most decent restaurants get booked up very quickly.
If you require accommodation in the city after partying the night away, again, remember to book beforehand. Don't expect to just be able to check into somewhere on the night to stay.
Beware of pickpockets like never before! Pickpockets are clever beings and know that you'll be away with the fairies enjoying yourself as you see in the new year. However, make sure, especially in crowds, to take extra care of your belongings and be aware of the people around you. Take only the essentials with you for your night out and try not to take carry large amounts of cash with you.