The Eatwith concept involves pairing tourists with locals for authentic culinary experiences that are great fun for everyone involved. The Musical Mediterranean Feast expands on this winning combination by also including a professional musician to perform a variety of music styles and genres throughout the evening. Spend several relaxed hours dining in a spacious and elegant Barcelona apartment, learning about international cuisine and Spanish flamenco in equal measures.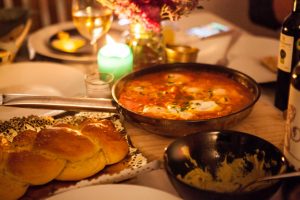 Refaelo is your host and chef for this experience; a talented cook originally hailing from Israel. His Middle Eastern roots are evident in his unique menu, which blends Iberian recipes with the typical fare of both Morocco and Israel. Meanwhile, guitar master Ofer Ronen provides the entertainment for the evening, integrating both Spanish and Middle Eastern fashions through his music. Not only will you be treated to a flamenco performance after the pure Andalusian fashion, but you will also have the chance to hear the enchanting oud instrument as played by an expert.
The experience begins with an intimate performance in the apartment living room as Ofer demonstrates his masterful skills at flamenco playing. He introduces each separate piece with some interesting insights into its particular history and traditions, making it an educational experience for everyone, whatever your prior knowledge. Many people will not be familiar with the oud – an ancient predecessor to the Western guitar – but you're sure to love the spellbinding sound it creates and appreciate its continued popularity into modern times.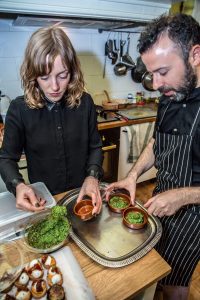 As you enjoy Ofer's incredible talent, the smell of Refaelo's own skills will begin to permeate the room and whet your appetite for the next phase of the evening: the feast! The apartment has a large dining room and ensures nobody will be left out with seating for up to 25 people. An intriguing, fresh take on the well known gazpacho soup serves as a tasty appetiser before you try a light sharing course of hummus and pita breads. Dine at leisure with your group, well stocked with both white and red wine by Refaelo and his wife.
The next stage of your Mediterranean feast includes a delicious shakshuka of poached eggs in garlicky tomato sauce with sweet red peppers, a babaganoush and a leafy green salad. Unlike most babaganoush, Refaelo's is served as an entire roasted aubergine with Tahini, parsley and lemon drops to accompany and season. In a sensually stimulating journey, the menu transports you around the Mediterranean, sampling a broad range of dishes and spices along the way in what can truly be described as a 'feast'!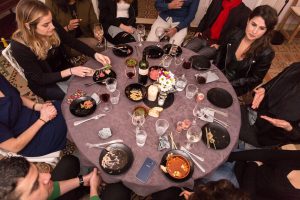 For the main course, Refaelo treats his guests to traditional Sephardic fish, cooked in tomato sauce with sweet peppers, potatoes and chickpeas. To accompany, Majadra provides some additional carbs to help soak up the copious wine flowing! If you have been eating nothing but tapas during your holiday then the range of flavours, ingredients and seasoning included in the Mediterranean feast will be a welcome change from jamón ibérico and Padrón peppers.
Make sure to save room for the 'Midnight dessert', a creamy, coconutty concoction with Rose water to add sweetness. Whilst you tuck into this final sweet course, Ofer will teach you how to participate in flamenco shows with the classic ole and palmas (a specific type of clapping). What is certain is that you will leave Refaelo's weighed down with food but uplifted by high spirits and intriguing information about the rich diversity found in Mediterranean gastronomy and music.