It's undeniable that summer nights have something magical about them that you just can't explain… and Barcelona has sought to make the most of this enchanting feeling for the last 15 years by celebrating "Música en los parques," Music in the Park.
"Música en los parques" is a festival organised by Barcelona council with the aim of turning some of the most well-known and important green spaces in the city into stages where new talented bands can perform.
Throughout the months of June, July, and August (beginning the 31st of May and ending on the 30th of August with a concert in Park Güell where WOM'S COLLECTIVE will perform) a number of weekly concerts will be put on in more than 30 different parks and green spaces aroun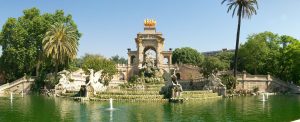 d Barcelona… with so many concerts taking place, you're guaranteed to find one close to where you're staying. The festival is also a great opportunity to discover some of the most important parks in the city: Ciutadella Park, Park Güell, Joan Miró Park, Barceloneta Park, Estación del Norte Park, and many more…
The more than 50 concerts taking place this summer will see young people take centre stage, those between the ages of 16 and 35, who have been chosen for their sheer musical talent and academic dedication to the field. Some of the amazing groups include amateur composers, orchestras from local schools, choirs, etc… playing a variety of musical genres such as classical, blues, jazz, among many more.
The Music in the Park festival is great for all audiences, and has been especially adapted for all ages: chairs will placed in the crowds for those who need them so that everyone can enjoy the concerts and feel as comfortable as possible all while having a good time.
Without a doubt, Music in the Park is a festival that triumphs each year, growing in popularity every time that it comes to Barcelona. Last year more than 14,000 people attended the event- will you be a part of that number this year?
We know that everything we've said about the festival so far sounds absolutely marvellous, but we haven't told you the best bit… it's totally free! Check out the 'Music in the Park' festival programme on their official website.
Guided Tours during ' Music in the Park '
Before the concerts start, Barcelona council have organised guided visits to some of the most emblematic points in the parks. These visits will start between 1 and 2 hours before the concert and, thanks to a knowledgeable guide, you will be able to find out everything from the history of the park, its biodiversity, how it has changed through time, and many other unknown and interesting facts about the park. These visits are very popular and guides can only take around a group of 35 at a time, so sign up soon!