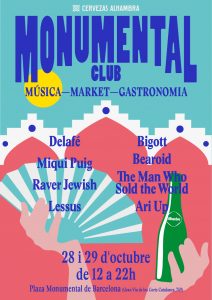 ¡Ay Caramba!  Count your lucky stars if you happen to be in Barcelona the last weekend of October… La Plaça Monumental, bullfighting ring turned music arena, welcomes The Monumental Club, a weekend festival of live music, DJ's, street food y más!
Festival
The Monumental Club has got something for everyone. If the stunning location is not impressive enough, La Plaça Monumental will also tempt you with a monster sized market filled with fashion, jewellery, arts and crafts, recyclables, handmade objects and exhibitions. There will also be a generous variety of mouth watering street food and pop up bars to keep you refreshed throughout the day.
History
La Plaça Monumental is over 100 years old and opened in 1914 as the third bullring in Barcelona. Although it was once one of the most prestigious bullrings in Spain, by 1977 it was the only bullring in Barcelona, and remains the last arena in Catalonia to have held a bullfight. As a result of a popular vote, in September 2010, the Parliament of Catalonia passed a law banning bullfighting. 
Music
This is not the first time La Plaça Monumental has been used as a music arena. The bullring has hosted the likes of The Beatles, Bob Marley, Dire Straits, Tina Turner and in 1976, The Rolling Stones performed their first ever Spanish concert here.
Have a sneak peak below of the artists following in their footsteps this October…
Delafé – The funky Spanish hip-hop band based in Barcelona are known by their fans as 'the irresistible force' for a reason. An eclectic mix of soul, rap, indie and pop, get down on the dance floor for Delafé.
Bigott – Born in Zaragoza, the chilled out indie guitarist wowed the crowds at Santander Music Festival earlier this year and no doubt will do the same in Barcelona. His  style echoes Tame Impala and The Kooks, so grab yourself a cold cerveza and make sure not to miss Bigott with the beard for an afternoon of chilled out, cheerful vibes.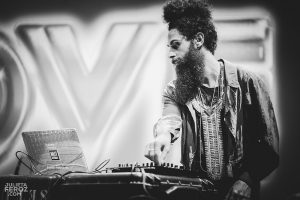 Raver Jewish – The mind-blowingly talented DJ from Sardinia is a phenomenal live artist, and has dedicated the last 5 years of his career to performing live gigs- often up to four a week! Snap up the opportunity to see him in Barcelona this October.
Where:           Gran Via de les Corts Catalanes 749
When:            28th and 29th October 2017             12:00 – 22:00
Entry:              2€