Montserrat has been a site of great religious and spiritual importance for over a thousand years, and remains a popular destination for many reasons. Most famously, the unusual rock formations are home to a Benedictine monastery, housing a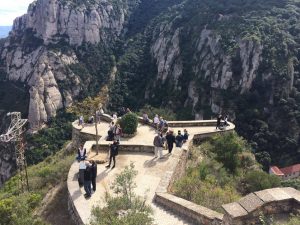 Black Madonna statue which draws pilgrims and tourists alike to touch, or kiss, its hand. Whatever your faith, it is impossible not to be blown away by the dramatic setting of this craggy and forested mountain range. Here to guide you through the twisting alpine paths and the convoluted and intriguing history of this symbolic location is local expert and veteran tour guide Ricard.
Less than 30 miles inland from the city of Barcelona, the foot of Montserrat can be easily accessed by train, bus or car. The mountain itself is ascended by either a rack railway or a cable car and you soon find yourself above the clouds, in the midst of a picturesque town. A busy local market opens shop every day of the week, enticing b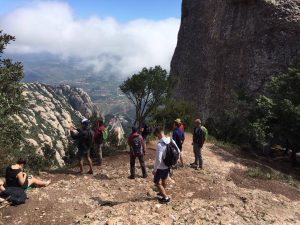 rowsers with strong cheeses, fig bread and sweet bottles of liquor. A museum, a gift shop and two restaurants also cater for the many day-trippers and ensure you have the option to take more than just memories and photos home with you.
However, the true magic of Montserrat is found even above the town and the tour begins in earnest with a ride up a funicular to a site colloquially named 'the witches plain'. Just minutes into the hike we learned that there were once thirteen individual hermitages scattered throughout this wilderness and Ricard's route follows some of the ancient trails that connected these lonely places together. The hike itself is not too difficult – provided you wear suitable footwear and are reasonably fit. Ricard stops periodically to explain certain aspects of the landscape's geography, human and natural history, and of course, it's plentiful myths and legends. Therefore, whatever your interests, you are certain to learn a great deal about this famous mountain range and its inhabitants from the past two millennia.
One problem that the monks and hermits found with Montserrat was its absence of any natural water sources. Subsequently, they conceived many ingenious ways to collect and store water, including chiselling the mountain sides themselves and digging caves to act as reservoirs and cool storage spaces. Without a local guide, it is highly unlikely that you would find these points of interest. As such, Ricard acts as an indispensable source of information and clarification throughout the excursion.