The Museu Nacional d'Art de Catalunya (MNAC) holds a vast collection of Catalan art within its jaw dropping palace.
The immense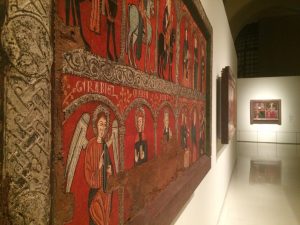 Catalan and Romanesque art collection, which exhibits 1,000 years of art, sits in the Palau Nacional. From the centre of Plaça Espanya and the foot of Montjuïc visitors are drawn to the sight of the grandiose palace. Walking up the countless steps leading up to the main entry, one half expects to be rubbing elbows with dignitaries at the top.
Inside, the awe-inspiring views continue. The museum is home to a large collection of Catalan, Romanesque, Baroque, Gothic and Modernist art. Two floors and over 65 rooms of paintings, sculptures, photos and even furniture keep visitors enchanted for hours. Notable artists include Antoni Gaudí, Ramon Casas and Santiago Rusiñol.
The bottom floor holds the older periods of art including Medieval, Gothic and Baroque. This floor also holds many Romanesque mural paintings. The painting were discovered in the 20th century in various churches in the Pyrenees. They were removed and placed in the museum to avoid their being moved abroad, according to the MNAC website.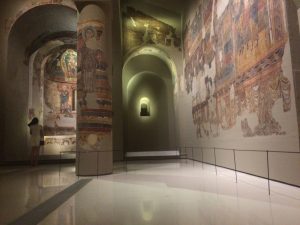 On the top floor visitors can walk through a collection of modern art including vanguard, realist, boheme, and Japanese artwork. The museum also holds temporary exhibits that change every few months.
In the former Throne Room resides Oleum, a Mediterranean restaurant with a regal ambiance and a fantastic view of Barcelona. It was in this room that  King Alfons XIII inaugurated the International Exposition of 1929 for which the palace was built. The building also features a Great Hall complete with an organ currently in the process of restoration. Its grand dome was inspired by that of St. Peter's Basilica in the Vatican.

General admission tickets to explore the museum are 12€, valid for two days during the month and can be purchased online.
For an extra 2€, visitors have access to the rooftop  terrace which has a 360 degree view of Barcelona. On Saturdays after 15:00 and the first Sunday of every month there is free entry.