Halfway between the sea and the sky, on the 24th floor of the Torre Colón, Marea Alta is a heavenly dining spot. The restaurant offers 360' panoramic views, from the Serra de Collserola mountains to the north, to the Mediterranean sea to the south, and everything Barcelona has to offer in between. Marea Alta is a seafood lovers paradise, specialising in exceptionally fresh fish, sourced from every coastal region of Spain. Needless to say, it is a prime romantic hotspot and a popular place to celebrate special occasions.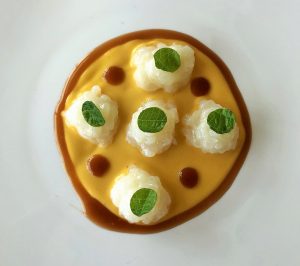 Barcelona has very few high rise buildings so the Torre Colón towers above its surrounding neighbourhood. Whichever architect designed floor 24 was clearly devoted to taking full advantage of the magnificent vista, installing huge windows along every wall. The restaurant itself is painted white and blue whilst the furniture consists of hardy yet comfortable deck chairs, all of which create a sensation of dining on a 5* yacht (except without the motion sickness!). The final nod to the maritime theme of Marea Alta is the uniform of the waiters who tend to their tables dressed as sailors with neat, colourful aprons.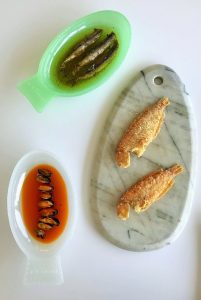 It is hard to speak generally about Marea Alta's menu since it changes on a daily and seasonal basis. The restaurant's focus is clear from a mere glance however to serve fish so fresh they practically swim off your plate. An eclectic mix of species can be found on their menu, everything from charcoal grilled turbot, ray fish stew, and fresh snapper. The char-grilled whole fish is certainly Marea Alta's specialty. Unlike many restaurants where you pay 'market price' for the fish, Marea Alta keep things fair by charging by weight. You can therefore select whichever fish takes your table's fancy and have it served whole, filleted and partially deboned in front of you by a skilled waiter.
Besides the spectacular main courses, the appetisers and side dishes are another plunge into seafood-lover heaven. Many of the options are cooked in seawater to accentuate their fresh natural flavour and most recipes produce simple wholesome fare that highlights the high quality of the ingredients. Certain auxiliary dishes are particularly noteworthy, namely the mussels, which are served in a flavoursome vinegar-based sauce, whilst the squid tartare is a delicate and rare snack to whet your appetite for the main.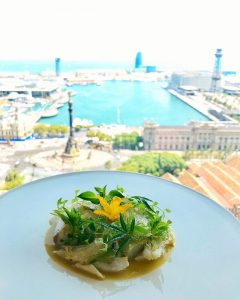 One of the greatest advantages of a fish-based meal rather than meat-based is that you don't feel as bloated and heavy afterwards. Therefore, you can also order the roast potato side without feeling guilty or apprehensive – even with 700g of sea bass you will still find space for the buttery carb, and still be able to walk gracefully out the restaurant after! Overall, Marea Alta is an experience as well as a meal and truly a restaurant that stands head and shoulders above its competitors – in every possible way.