Save yourself, save your friends and perhaps most importantly (especially if you're Catalan or a fan of modernist architecture), save the blueprints of the Sagrada Família! This is the exciting premise behind Lock Clock's Gaudí room, wherein you must figure out a series of puzzles in order to escape an attempted arsonist attack. Of course, there is no real danger and the door is opened after an hour regardless of whether you complete the puzzles, making this a light-hearted test of your observation and acumen.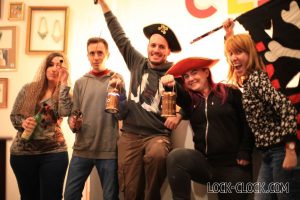 For those unfamiliar with the escape room concept, the name should be rather self-explanatory. You and your friends are 'locked' (though loo breaks are permitted!) into a room for one hour where the key to escaping is hidden with a series of puzzles, codes and other cryptic clues. It's a test of both your ability to think laterally and to work as a team, putting your group's combined brain power together to solve the riddles. If you get truly stuck, tips and hints are available from the organisers on the outside of the room, though everything is possible to solve using the resources available inside.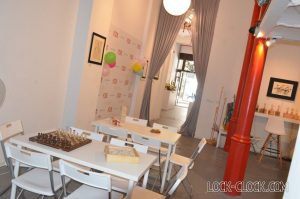 Lock Clock's Gaudí room is ideally suited to a range of clients and they happily cater for families, corporate team building events and groups of friends. The concept is cleverly designed to make you think 'outside the box' and cooperation is vital for finding your way out. Speakers playing noises imitating the approaching mob of anarchists become gradually louder throughout the hour, raising the tension and adding another level of realism. Indeed, whilst in the room, the outside world ceases to exist as you exert all your energy to unravelling the mystery.
The Gaudí room is also a lesson in history. The plans for the Sagrada Família were victim to an arson attack in 1936 when anarchists broke into the building and burned many of the original plans and models. An introductory talk from the organisers provides an intriguing background on this landmark event in the Sagrada's history and makes the rules and approach clear before starting.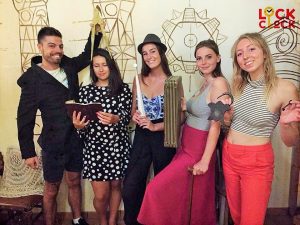 Lock Clock's Gaudí Room is a great activity for anyone looking for a break from the typical sightseeing and sunbathing. It is also the perfect way to test your ingenuity in the face of seemingly insurmountable subtlety. Think you've got what it takes? Book now and save the Sagrada Família!