For amateur wine enthusiasts, there are many options to explore. Spain has a rich wine culture that often goes a little unnoticed. With France and Italy nearby, one might not instantly think of Spain but it has some great options. Spain has many wonderful wines and there is certainly at least one type of wine for everyone. From full bodied, robust red of a Tempranillo to a lighter, citrusy Alboriño to the lovely and sparkling Cava, there are many great choices for wine.
If you are looking to try wines from Catalunya and around Barcelona, look into Devour Barcelona's walking wine and tapas tour with Fintan. It starts at Bodega Puntual, a lovely restaurant just down the street from the Picasso Museum in the Born, and moves onto a new wine bar called Eldiset. Lastly, you visit Fintan's private tasting room to finish off the tour. All of the wines on this tour are from Catalunya so you get the feeling that you are truly diving into the local culture.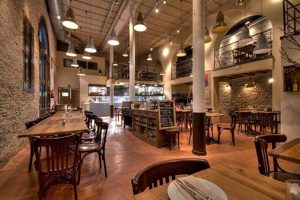 Bodega Puntual has a hole in the wall and hip vibe to it. The space is open and lofty with an industrial chic feel. The tour starts here with a Vermouth, a fortified wine, and some tapas. Among these tapas were some of the best patatas bravas, a classic potato dish served with garlic mayonnaise and spicy sauce, in the city. This restaurant would not attract much attention from the outside but it is well worth a visit.
Eldiset is an exciting new wine bar in the Born. Having opened only two years ago, the bar is trendy and busy. Eldiset fills up quite quickly and people are sometimes turned away if they do not have a reservation. Here, you enjoy well paired small dishes with wonderful wines. Being more of a bar than restaurant, the space takes on a more social environment with great ambience.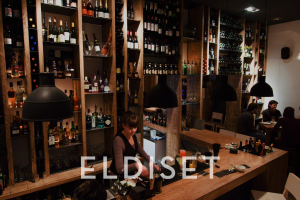 The last place on the tour is the guide's personal tasting room. The owner of the space has brought a creative touch to the tasting room. It feels as though you have stepped into an artist's studio. The overall feel reasserts that wine does not have to be pretentious or snobby; anyone can pick up wine culture.
This is a wonderful tour for anyone looking to explore local wines and is perfect for all levels of wine experience. It maintains a fun, exploratory feel without the uptight culture that the wine industry can have. Be prepared to drink lots of wine. This tour will make a lovely evening of drinking wine, eating delicious tapas and great company. Book your tour here.