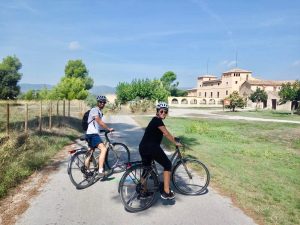 Whilst Barcelona is undoubtedly a holiday hotspot in Europe, its crowds of people and hectic streets can get a bit too much after a few days in the Catalan capital. Let's Velo provides the opportunity to seek pure escapism in the nearby surrounding wine countryside, and discover the stunning Penedès area on a state of the art bike. Comfortable, light and easy to ride, Let's Velo's premium specialised bicycles are perfect for biking novices and experts alike, and allow you to glide effortlessly through the vines.
After soaring through acres of lush vineyards, you will arrive at your first port of call – the iconic Torres bodega. Present in more than 150 countries worldwide, the estate has over 1,300 hectares of its own vineyards – a small fraction of which is revealed to you on this tour. Enjoy a brief wander around its scenic and tranquil grounds, and sample one of their world-renowned wines at their in-house bar. Whether you prefer a light, fruity white or a rich, oak-aged vintage, Torres' knowledgeable sommelier will recommend a wine tailored to your personal taste, which you can subsequently purchase at their bodega store.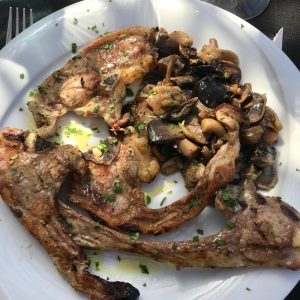 Raring to get back on your bike, cruise along winding sand tracks and through spectacular vineyards until you arrive at the second winery of the day, Parés Baltà. From the bodega's inception in the 18th century to its present day operations as a biodynamic winery, your charismatic guide will delve into its fascinating history and transform you into a cava expert. Explore their 33-feet deep cava cellar, and receive an introduction to the world of cava making, from picking the grapes to the all important fermentation process. However, perhaps best of all, your visit to Parés Baltà ends on their picturesque outside patio, where you can try two of their internationally acclaimed cavas, whilst basking in the Mediterranean sunshine.
Light headed and sore legged, lunchtime calls and fortunately Let's Velo have sussed out an idyllic spot to enjoy home-cooked, delicious Catalan fare. Enjoy al fresco dining at its finest amidst the vineyards, with views to rival most restaurants in Catalonia (and that's saying something). This local eatery serves quintessential Catalan cuisine, with all dishes prepared using only the freshest seasonal ingredients. As if the barbeque aromas aren't enough to lure you in, their generous portions of meat and fish will certainly do the trick. We recommend their lamb, lightly garnished with herbs, olive oil and garlic served with a side of mushrooms – a simple but flavoursome combination that'll give you that much needed spike of energy for the last leg of your bike tour.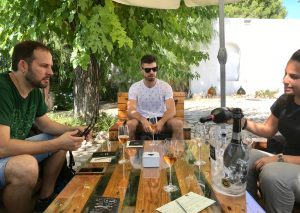 Let's Velo welcomes visitors from around the world, and requires nothing more than a passion for cycling. Whilst a basic level of fitness is required, Let's Velo hands on team will cater the tour towards your physical ability and preferences. Indeed, if you would rather do a shorter, longer, more difficult or basic route, just speak to your guide before hand. That's the beauty of Let's Velo's: 100% personalised and flexible routes!
Fore more information, please click here