In Barcelona for an extended period of time, and want to have the means to fit into the culture more?  Barcelona is teeming with various courses and classes in both Castellano (Spanish) and Catalan, so finding a way to learn the local languages is never too difficult.  For those of you who don't want to spend the time to look up various classes, have no fear: we've compiled a list of a few different Castellano and Catalan classes that we think are top-notch!
Castellano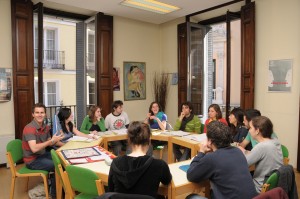 Kingsbrook is an excellent program aimed at English speakers of all Spanish levels.  With 3 different levels of Spanish, each with 2 sublevels, every person interested will be placed in a class they feel comfortable with.  There are 10 different courses, ranging from evening classes (2 hours/week) for €20/week to 25 hours/week for €280/week.  In addition to this, you can decide to take part in a personalized one-on-one private class, where the teacher will adhere to wherever he or she feels you need the most work.  Overall, it is a great school with many different courses for you check out at their website.
Another school for learning Castellano in a quick fashion is Speakeasy BCN.  Like Kingsbrook, this school has over 15 courses of Castellano to choose from, with each one getting great reviews from previous and current students.  A course that is especially good is the evening class, which meets twice a week for 3 hours a day; perfect for people working during the day, but still want to put in a decent amount of time studying Castellano.  In addition, they have various day classes ranging from 10-20 hours per week, or if you plan to stay in Barcelona for a long period of time, long-term courses from 6-12 months.  Located near Universitat, this central school is an excellent choice for learning Castellano through all levels of proficiency. For more information, visit the Speakeasy BCN website.
Catalan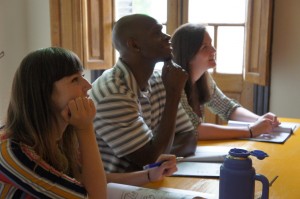 The Consortium for Linguistic Normalization (CPNL) is an organization in charge of Catalan language policies for the government of Catalonia.  Offering Catalan courses at all levels, the classes range from general knowledge classes to specific courses for professionals.  The best part about this: the initial level is free, so you have 45 hours to decide if you want to continue taking Catalan classes or not.  While the price does rise based on your skill level, it is never extremely expensive, and is sure to teach you Catalan in a timely manner.  Furthermore, you can hire a tutor through the program for a much more hands-on learning experience.  For more information, visit their website.
Both
One of the larger programs in Barcelona, BCN Languages offers a variety of levelled courses at various locations throughout the city.  Teaching for over 20 years, the 6 Castellano courses range from an intensive course for 4 hours per day, 5 days per week, to 3 hours a day in the class and 2 hours roaming Barcelona, to preparations for the DELE Exam.  Catalan has even more options for classes, with 9 separate programs for varying amounts of time.  With 6 different language centers around the city in popular hubs, these classes are fairly easy to get to as well.  In order to learn more about the prices, times, and other information, visit the BCN Languages website.