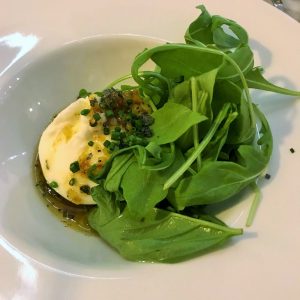 For an intimate dining experience in a cosy and original location, El Raval has just the place for you. The tapas restaurant La Prudencia del Raval can be found off the busy Paral-lel avenue, on the tranquil Carrer de l'Abat Safont. Its proximity to BARTS Concert Hall, Sala Apolo and El Molino theatre make it a popular choice for a pre or post show tapas dinner, whilst their open-door policy towards dogs attract those who are inseparable from their canine pals.
In typical Barcelona style, La Prudencia's interior is a modern medley of edgy artwork, bare brick walls and intriguing furnishings. The tapas restaurant is tiny, boasting fewer than ten tables, yet they manage to pack in a great deal of character for such a miniscule location. For a start, their bar area is extensive with a wide range of craft beers, cocktails and vermouths to try. We recommend having your meal at the bar where you can watch their expert bartender at work throughout your meal.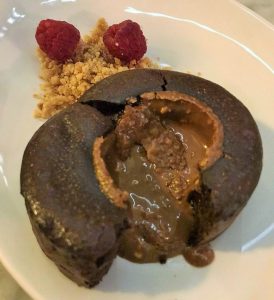 When it comes to food, La Prudencia takes a very traditional Spanish approach. Most, if not all, of their recipes are based on typical Catalan fare but always with a distinct twist. The menu consists of small tapas dishes which allow you to sample a wide range of flavours – perfect to share or try by yourself. Like most Mediterranean eateries, seafood features prominently, although the carnivores will be relieved to see they have an entire section devoted to meat too.
Whether you are looking for a staple among Barcelona's high-quality venues, such as a creamy burrata salad, or an unconventional black pudding stuffed shallot, La Prudencia's kitchen has you covered. Particularly popular choices include their black rice risotto, crowned with a king prawn, and their simple yet refreshing Norwegian salmon tartare. An artisan cheese board is available for dessert along with sweet treats such as ginger and lemon cheese cake and an irresistible chocolate coolant with Ferrero Rocher.