La Molina is a ski resort located in La Cerdanya in the Pyrenees Mountains of northeastern Spain, in the municipality of Girona, Catalonia. It is part of the Alp 2500 group, with Masella Mountains.
The first Spanish ski lift opened in this station on 28 February 1943, and the Spain's first ski school opened in 1944.
Since 1983,  the Generalitat de Catalunya manage the resort. Aside from being a great ski resort during winter, this is also a bike park in summer, with slopes, trails and lifts, parking areas, restaurants and accommodation around the area. The bike park is well known by mountain bike enthusiasts. It is where Andreu Lacondeguy, the world famous Spanish mountain bike rider used to train.
Thise of you without a car will be glad to know that it's easily accessible by RENFE train.
Bike Park and other activities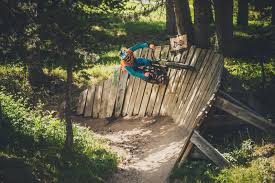 In summer, La Molina offers sports, nature and fun.  Many activities can be enjoyed here for all tastes.
Of course, the Bike Park is very popular during summer, but what if you're not into biking?Don't worry there are plenty of other things to do! The Gondola lift will give you access to both the Bike Park, if you feel like observing, and to the top of Tosa d'Alp at 2.357m. The views are spectacular. Once there, you can have lunch at a restaurant while enjoying the fabulous views of La Cerdanya, Ripollès and Berguedà. El Bosc restaurant serves good local cuisine. And the Puigcerda, El Petit Cafe, or Espirit De Vi establishements offers great tapas.
If you are a keen mountain biker or fresh first-timer there are 4 types of trails: 2 easy ones (Enllaç and Pista Forestal), 1 moderate (Guineu), 4 difficult (Catalunya, Poll de Pal, Marmota, Senglar,) and 2 pro (Tallafocs and Trencapinyes). The vertical drops vary between 700m and 1500m. But no matter what level you're at, La Molina has it all covered. This is the why it's one of the most famous Bike Parks in Spain. More information and more details about all the trails.
Moreover, there alre also plenty more activities you can do during the summer: tubbing, swimming, swining in the trees of the adventure park, Nordic Walking, Segway, zip-line, jumping, trampolines, inflatable games, thermal circuit, laser combat, quads for adults and children, mushing, fitness, pedal boating, paddle surf and boat trips. You will also discover and enjoy the environment while resting next to the lake, having a drink at the bar or even riding a pony.
Map of the Bike Park.
Here is a nice video of a mountain bike downhill. More videos are available on their Youtube channel.
How to get there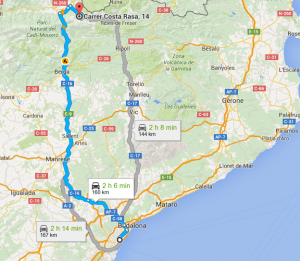 La Molina resort, located in La Cerdanya in the Catalan Pyrenees, has an optimal accessibility. You can get there by train. It is the closest resort to Barcelona, just two hours' drive from the airport.
Bike Park: 1 day pass: 20.50€ euros / 3 day Pass: 52.50€
All the activities' prices are available here.
Accomodation
La Molina offers a wide range of accomodation. Summer is less busy than the winter ski season, so you'll have plenty of choice where to stay. In the resort, Hotel SuperMolina is nice, recently refurbished and has a ski room for your bikes. If you plan on staying more than a weekend, we recommend that you stay in the village of Puigcerda and hire a car. It is livelier and just 15km away from the valley.
Opening hours of the Bike Park this summer
From 8:30 to 17:30 (Monday to Thursday)
From 8:30 to 14:00 (Friday)
Weekends from July 2: 9:30 to 18:30
The opening hours of Bike Park and the Gondola lift are: 10:00 to 17:30.
La Molina: +34 972 89 20 31