For the last 70 years, the Andalusian and Catalonian culture have been blended with each other. Around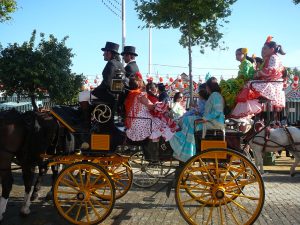 1950 many Andalusians came to Catalonia, and with them came some typical Southern Spain traditions.
One of these traditions is the annual April fair. This tradition, originally from Seville, is not only popular amongst the Andalusians but also amongst many Barcelonians! You will be able to witness some real authentic Spain culture during your stay. La Feria de Abril 2020 is being held from the 26th of April until the 2nd of May at the Parc del Forúm in the Diagonal Mar district.
La Feria de Abril 2020 in Barcelona
Experience Andalusian culture
During this amazing event you will be able to experience the blended Andalusian and Catalonian culture. At this moment, Barcelona is the home for people all over Spain. All these people from different parts in Spain wanted to bring something from their original culture. This is where the April Fair comes in. In April the 49th edition of the April fair is being held, and it is definitely something you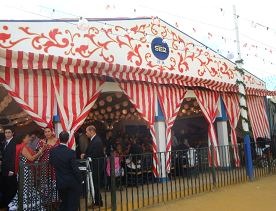 should visit during your stay!
La Feria de Abril is not only for adults. The festival is divided into two areas. In the first area you will find a fairground for kids to have a great time. There even is a Ferris wheel, and you will be able to walk around lots of market stalls in order to gather all the souvenirs you need. In addition to this, there will also be great street food available from the multiple fair-style vans. These vans are all colorfully decorated since there is a reward for the van that has the best food and decorations.
If you are into dancing, the second area of the event is for you. In this area you will find more than 70 festival marquees, also called casetas, where you can witness some real authentic Flamenco dancing. You will also be able to enjoy some free traditional music, food and drinks. The biggest caseta is the ''Caseta de la Fecac'' and here you will find some free concerts and shows starring top Spanish singers and performers.
What to wear during the event?
If you are reading this and you're thinking about going, then you probably should know what to wear right? Of course, you want to fit in with the locals, and we are going to help you with that. For men it is usual to wear the traditional 'traje de corto'. This is a short jacket, tight trousers and some nice boots. The women usually wear the traditional 'faralaes', which is a typical colorful Flamenco-style dress.
Other activities
During the event there will be other Andalusian traditional cultural activities as well. For instance, you will be able to learn the authentic Andalusian dance in one of the various dance lessons that are offered to visitors of the fair. In addition to this, there are also many exhibitions and presentations about Andalusian culture topics that will blow your mind.
How to get to La Feria de Abril?
The fair is really easy accessible for everyone. There are multiple good connections of public transport. You can get here by tram on the T4 Besos line. It is also possible to get to the festival by metro. The nearest metro station Is Maresme / Forum on the L4 line. In addition to this, you will also be able to take the bus to the fair. Check out the TMB website to see the departure times of the buses V31 and 136. During the fair, there will be extra buses and trams to make sure everyone can get to the event in a good way.
La Feria de Abril is free to access for everyone. This way anyone can experience this authentic traditional Spanish event. When visiting Barcelona in April and May you simply cannot let this amazing experience pass by!
Where to stay during the April fair in Barcelona?
If you want to visit this event, of course you will need an address to stay. However, since this event is so popular in Spain most hotels in Barcelona will be fully booked. Luckily for you there is AB Apartment Barcelona. This apartment rental company will have plenty of different apartments in Barcelona for you to browse and choose from. All apartment come with all the amenities you will possibly need to have an unforgettable stay during La Feria de Abril 2020 in Barcelona!