With the Barcelona summer comes the blazing heat, and what better way for you and your friends and family to cool off than a trip to Illa Fantasia?  This massive water park is full of slides, pools, and structures for a full day of fun in the sun.
What is it?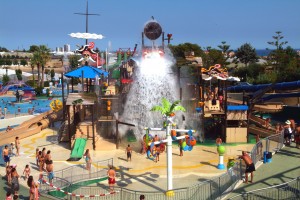 Like many other water parks, Illa Fantasia is known for teeming with exciting and thrilling slides.  Boasting over 20 different water slides and 3 large swimming pools, this location will be fun for all kinds of people, whether you are with kids, by yourself or with friends.  For the youngest members of the family, the park has the "Splash n Slide" activities that are proven safe for toddlers and up.  For older kids, not only can they go on all of the various slides throughout the park, but can also check out the pirate structure or the wave pool.  Anyone who is just accompanying others and doesn't want to go in the water can relax by the picnic areas of the park.
I'm hungry
If you're wondering about what to eat at the park or whether or not to bring your own food, we have good news: you can do either!  If you'd like to bring your own food to the park, there is a barbeque area for you to use with 800 picnic tables.  Even better, there is a large supermarket right next to the water park, so if you forget anything it is incredibly easy to head over next door and pick it up.  Don't want to bring your own food?  The park has its own restaurant that you can sit down in for a more formal environment, while there are also fast food venues including a burger bar, coffee bar, ice cream, and pancake house.
How do I get there?
One of Europe's largest water parks, Illa Fantasia is located a 30-minute train ride outside of the city center.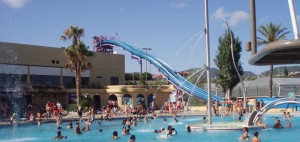 In order to reach the park from inside Barcelona, take the R2 train to the Premià de Mar station.  Once reaching there, hop on the free shuttle bus operated by the park to get there within 5 minutes.  To reach the R2 bus, head to Plaza Catalunya, Arc del Triomf, El Clot or Barcelona Sants Estacio.  If you decide to go to the park by car, Illa Fantasia is a 25km drive away by going down the C-32 road towards Mataró and getting off at exit 92.
Anything else?
The park is open from June 8th until September 13th, and ticket prices depend on how tall the adult/child is.  For people over 1.4 metres, each ticket is €26, below 1.4 metres €16.50, and below 1 metre is free.  Keep in mind that if you get there after 14:00, prices drop, so plan your trip accordingly.  For more information, visit the Illa Fantasia website.