MAAI joined the burgeoning ranks of Barcelona's brunch scene last December, and have already established themselves as one of the best healthy breakfast and lunch restaurants in the city. Indeed, few kitchens can claim to cook with the same love, care and attention to detail as MAAI. Find their modern restaurant on the quiet Carrer de Regàs in the quaint Gràcia neighbourhood, open 8am – 4pm, Monday to Friday.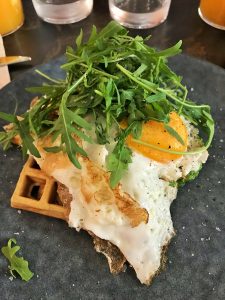 Most people think brunch is synonymous with avocado toast and eggs florentine but MAAI is living proof that innovation and experimentation can produce unrivalled results. Without resorting to the typical breakfast and lunch fare that everyone has seen hundreds of times, MAAI creates delicious wholesome dishes. What's more, you can order to your heart's content without compromising your diet. This is because Viky, the owner and chef, is committed to using organic, healthy ingredients resulting in nutrient-filled, vibrant meals, that will sate anyone's appetite. MAAI's commitment to healthy foods extends to refusing to use refined flour or sugars but somehow retains exceptional taste regardless.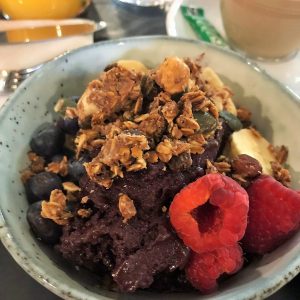 The brunch menu at MAAI draws upon Viky's passion as a cook and her years of experience as a head chef. A favourite for many people is the savoury breakfast waffle – a choice that never loses its novelty since it changes seasonally. In spring for instance, it arrives with an expertly fried egg and plenty of zesty rocket. Another popular option – though one that is available to order all year round – is the jamón with toast. Not just for Spaniards, everyone will love the top quality jamón and toasted 'alternative' bread. For a more exotic start to your day, MAAI's açai bowl contains a rich blend of fruit and granola, served in a simple rustic bowl.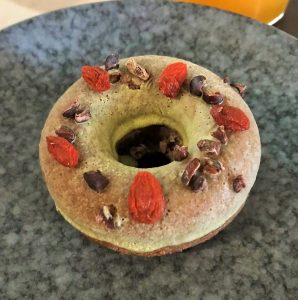 Equally important as the food, MAAI boast a complete selection of cold press juices, rich coffee and various infusions. Perhaps not the most exciting accompaniment, the freshly squeezed orange juice is truly spectacular with every menu option. In keeping with their eco-friendly and largely vegan philosophy, MAAI have a broad range of vegetable-based milks for coffees and smoothies.
A greasy fry up or unsatisfying eggs on toast are not your only choices for brunch in Barcelona. For healthy, energising food that will taste great and make you feel amazing afterwards, try MAAI.