Have you ever wanted to shop at midnight in Barcelona? Well, this is your chance! The Barcelona Shopping Night is celebrated every year and now on the 19th December, it has rebranded as "La Nit de Passeig de Gràcia", which means that many stores are open from 8:00 pm until 01:00 am. This event revolves around four main themes: shopping, music, gastronomy and culture.
All you need to know about Barcelona Shopping Night
-The Barcelona Shopping Night Decoration
The Barcelona shopping Night is lit up under Barcelona Christmas lights, which is a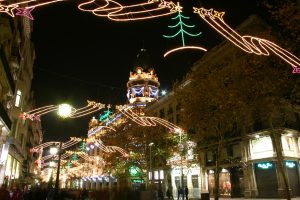 traditional Christmas decoration, with Christmas Lights all over the city of Barcelona. Everyone will be well and truly in the Christmas mood with hundreds of lights shining in the dark and wintery December nights. 77 kilometers of streets are lit, which underlines the serious investment in the decoration. As an addition to lights, the magic fountain of Montjuïc presents Christmas shows on every Friday and Saturday in December.
-What is on offer?
There will be seven stages along the Passeig de Gràcia with carrer Roselló, Provença. Mallorca, València,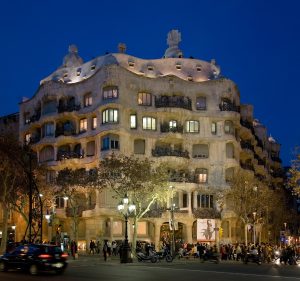 Arágo, Conell de Cent, Diputació and Gran Via. As shoppers walk through, they will be taken on a musical journey through the ages, starting from 1920s to the present day: film soundtracks, the Cotton Club, the fifties, Latin, rhythms, party music, pop rock and dance music with lice performances, DJs and giant graffiti walls. As well as this, there will be a variety of activities on offer that relate to each chosen musical area. Hotels and restaurants will also play a big part in this year's event, offering a festive tasting plate for just €7 that includes a beer and a range of festive gastronomic creations created by some of the city´s most renowned chefs.
-Stores
There are over 100 shops, hotels and restaurants participating. Some of the many that will taking part in the event are: H&M, Zara and Zara home, Stradivarius, Levi´s, Nike, Mango and Mango man, Guess, Swarovski, Oysho PINKO, United Colors of Benetton, Hotel Paseo de Gràcia, El Palace 5*GL and many more stores.
-Christmas swing
The Barcelona Shopping Night is a great chance to get stuck into some Christmas shopping because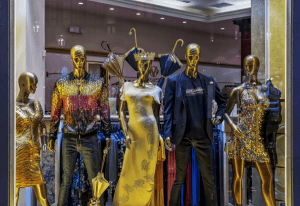 there will be lots of discount applied in almost every shop, so make sure you make the most of this one night in the year. The magical atmosphere will also have 7,200 LED light bulbs that will illumine the event and will be synchronized with music. Palau Robert will be converted for that night only into a gastronomy space that will celebrate Christmas traditional meals. As every year, you´ll also find some food trucks between Gran Via and Casp Street where you´ll enjoy food while listening to a very special music setting.
-Barcelona Shopping Night Scenario´s
1. Film Music: between Provença and Rosselló streets
2. Cotton Club: between Provença and Rosselló
3. The fifties: between Mallorca and València
4. Latin rhythms: between València and Aragó
5. Guateque: between Aragó and Consell de Cent
6. Force: between Consell de Cent and Diputació
7. The Era of Pop-Rock: between Diputació and Gran Via