The bright green bicycles of Green Bikes Rental & Tour shop are instantly recognisable and commonly seen around Barcelona. At this friendly shop, you may choose between a quality three-speed city bike or a practical folding alternative. Either of these sturdy rides can be rented for an hour, a day or even a whole month. However short or long your stay is in Barcelona, the easiest and most enjoyable way of getting around is undoubtedly a bike and Green Bikes is the best value for money option.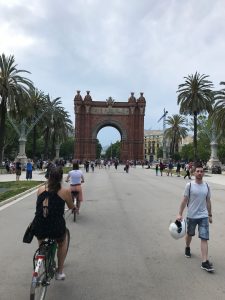 The location of Green Bikes Rental & Tour shop in the Gothic Quarter is an extremely useful starting point for your exploration of the Catalan capital. This neighbourhood is the original heart of the city; the oldest area from which the city has slowly expanded outwards to create the thriving metropolis we know today. The Gothic is a central neighbourhood from which all the key landmarks and points of interest are easily reached, including the beach, the picturesque El Born district, and the stunning Eixample area,
Green Bike's main shop is found in George Orwell square, a sun-kissed spot where cafes and restaurants nestle between bakeries and bars – the perfect place for a pre-ride snack to fuel you or a relaxed lunch to conclude your cycle. If you prefer to take a hard-earned break during your bike tour, each bike comes with its own easy-to-use lock so you can make stops wherever and whenever you need to. Also included in the price are lights to continue your adventure into the noche, and helmets (though not a necessity for those above the age of 16).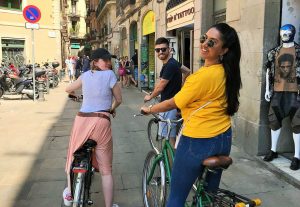 Another advantage of choosing Green Bikes is that they make their rentals as flexible as possible by letting you pay for your bike at the end of your trip. That way you can simply enjoy the freedom a bike gives you without worrying about returning it to the shop by any set time. The shop also offers advice and recommendations on which routes to take and have handy maps with pre-drawn circuits drawn out for you. Green Bikes make renting a bike as easy as riding a bike so check them out at Carrer Escudellers, 48 and discover the joys of pedalling through Barcelona's inviting streets.