The Gràcia festival (known locally as Festa Major de Gràcia) is one of Barcelona's largest street festivals, taking place in the Gràcia district every August and hosting approximately 1.5 million people every year. Residents from around 18 streets compete with each other and decorate their streets and squares, resulting in some beautiful sculptures and displays. Themes range from "under the sea" to classic films such as Fifth Element and Pirates of the Caribbean. If you're a Game of Thrones fan, make sure to look out for the street that chose this TV series as its theme – it even has an iron throne.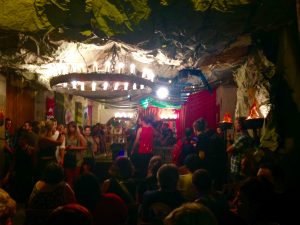 The Gràcia district we know and love
The Gràcia district is one of Barcelona's most charming areas. Still holding out against the commercialisation that has swept across the rest of the city, tourist entertainment and chain shops are less prevalent. The area got its name from a 1626 Carmelite convent called Nostra Senyora de Gràcia (Our Lady of Grace), later developing into a small town of artisans, labourers, and traders. Gràcia used to be separate from the city of Barcelona, and as the Catalan capital expanded, Gràcia became part of it. Though the area has somewhat modernised since its founding, it still retains that wonderful quaint, local feel.
Festival beginnings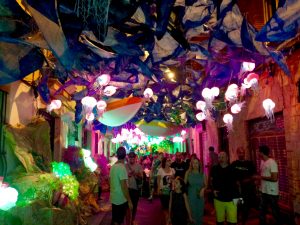 Unlike many of Spain's festivities, the Gràcia festival has its roots in agriculture and harvest rather than in religion, and could therefore be considered one of a kind. This year is the 200th edition, and one not to miss. Lasting from the 15th-21st August, you still have plenty of time to explore the streets and dance at its outdoor concerts. You can find the festival very easily by walking 15 minutes up the Passeig de Gràcia from Placa Catalunya. Alternatively, you can get the metro L3 to Fontana or Diagonal, or the L4 to Joanic.

A week of Catalan culture
If you've been in Barcelona for a while you'll know that Catalan culture is very important to the locals of Barcelona. You will often see the Catalan independence flag, characterised by its blue triangle and yellow star, hanging from the balconies of apartments in the centre. The Gràcia festival is about celebrating all that is Catalan, coming together to rejoice and be happy. Go along for artisan stalls, kids music classes, outdoor cinemas, and to have a huge amount of fun.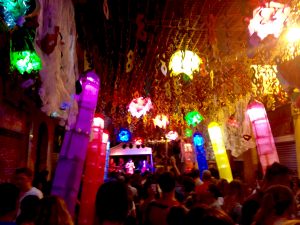 Fun… and also cheap!
As it's a festival principally for the locals, you won't need to bring a ton of cash with you. Prices of beer will be 1/2€ and you can certainly find mojitos and other mixed drinks for under 4€. There are various stalls selling locally-made trinkets and of course the festival T-shirts. Bars stay open until late selling tapas for very reasonable prices.
What's on?
The programme this year has over 500 activities, many of them designed for families but there are plenty of things to do if, like me, you're in your twenties and like to arrive at these kinds of events at 11pm. During the day you can see fire runs, parades, and castle building, while at night you can skank to techno music until 2am in Plaza del Sol.
The programme for the rest of the week has such a range of things to do. There's a swing concert at 10.30pm on Thursday, a Rumba and Chocolate gastronomic experience at 6pm on the Friday, and much more to come. The festival goes on until 2am on Wednesday and Friday, but continues until 3.30am on Friday and Saturday. Make the most of it!
For more information about the programme, visit the official site.