Barcelona's Gothic Quarter is one of the most fascinating neighbourhoods in the city. Some say it is both the heart of the old and the new city. It is a part of the city where trendy bars and great restaurants can be found. However, with there being so many great things to see in this part of Barcelona, it can be difficult to know where to start. Well, that's where we come in, because we are giving you the ultimate tourist guide for the Gothic Quarter Barcelona!
Things to see in the Gothic Quarter Barcelona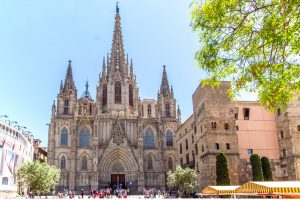 The Gothic Quarter is one of the most emblematic parts of Barcelona. There are many great attractions for you to explore. Probably the most famous attraction in the Gothic Quarter is the Barcelona Cathedral. This 13th century gothic architectural masterpiece is one of the most impressive buildings you'll see during your stay in Barcelona. Its medieval appearance will give you the feeling you've gone back into time and you can visit it for a low entrance fee as well! Entrance prices vary between €0 and €7 euros depending on which hours you are planning your visit. 
Close to the Barcelona Cathedral you will be able to visit the Museu d'Història de la Ciutat (MUHBA). This museum will let you discover 2000 years of Barcelona's history and it's a great place for anyone interested in ancient monuments. The most popular feature of the museum is the old Roman Ruins that lie beneath the Barcelona surface. Take a walk on the Roman streets and discover several ancient houses, wine shops and many more great findings! 
Another great thing to see whilst in the Gothic Quarter is the traditional Sardana dance performed live at Pla de la Seu (in front of the Cathedral). This traditional Catalan dance used to be banned by former dictator Franco. In 1975, the ban was lifted and people could finally dance their traditional dance out in public again. Every Sunday people get together in front of the Cathedral to dance the Sardana and it's truly a great way to experience some authentic Catalan culture in Barcelona. It's also good to note that it's 100% free!
Best bars in the Gothic Quarter Barcelona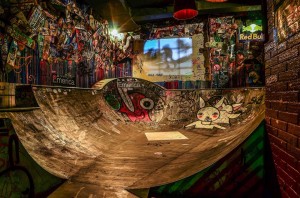 As mentioned before, the Gothic Quarter is home to many trendy bars. There are numerous places where you can have a drink and meet some new people. The most popular bar amongst students is Nevermind. This bar is all about 90's rock and roll and you can feel this vibe throughout every aspect. There is even a large skate ramp in the middle of the bar! One of the many great things at this place is the free popcorn you get when buying your drinks!
Another great bar in the Gothic Quarter is the Polaroid Bar. This bar is unique because of its retro appearance and 80's vibe. The Polaroid Bar is a must see for people who are into retro films and video game nostalgia. Similar to Nevermind, this bar also offers free popcorn to go with your drinks and it is overall a great place to relax with your friends after a long day of exploring the Gothic Quarter.
For people who are ready to go full into party mode the Gothic Quarter offers you Macarena. This club used to be a flamenco bar. However, nowadays it is an electronic dance club in the heart of Barcelona! Fans of deep house and electro house will love the music as it will be exactly what they are looking for! Make sure you are wearing your fanciest clothes as there is a bit of a dress code.
Where to stay in the Gothic Quarter Barcelona?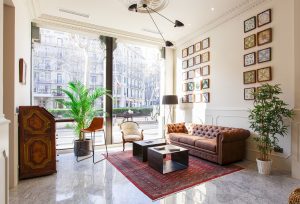 If you are looking for a place to stay in the Gothic Quarter Barcelona, be sure to take a look at AB Apartment Barcelona. They offer more than 500 apartments spread throughout Barcelona for you to browse and choose from. Especially in the Gothic Quarter they offer exquisite apartments for short- or long-term rentals. Make sure to complete your booking long before you visit Barcelona, as the Gothic Quarter is one of the most popular areas in the city!