Barcelona is world-renowned for its distinct character and charm, yet seeking a tour guide alike in charisma can be a tricky task. Floris Schermerhorn from Gids in Barcelona, the man behind this ingenious enterprise, ensures that each tour exudes personality and enthusiasm. This is largely aided by his overt adoration for the city and boundless passion for his craft. After years of exclusively offering tours in Dutch, Gids in Barcelona has recently introduced their tapas tour in English, ready to triumph the Barcelona culinary scene for English-speaking tourists.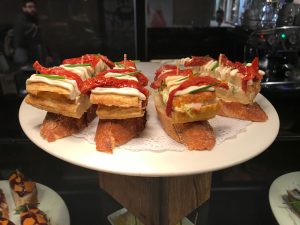 The tour kicks off in a quintessential Spanish eatery in Barceloneta, an unrivalled neighbourhood to experience authentic Mediterranean dishes. Dating back to 1955, you can be sure that you are in safe hands here, whether you are a tapas newbie or a patatas bravas fiend. Speaking of bravas, their twist on this classic dish will leave your tastebuds singing with joy, with their subtle nutty undertones. What's more, when enjoyed with their pimientos de Padrón, salted to perfection, you are on to a truly winning combination.
Whilst pintxos may not be traditional Catalan cuisine, that is not to say they should be overlooked. Property of the Basque region, pintxos can be enjoyed hot or cold and either savoury or sweet, by day or night. The next stop on this tour has an endless selection of top-quality toppings, paired with rustic artisan bread. Often, quality can be forgone in the pintxos world, where aesthetics is prioritised over taste to lure unsuspecting tourists. However, this pintxos pit stop could not be further from this stereotype with its innovative combinations.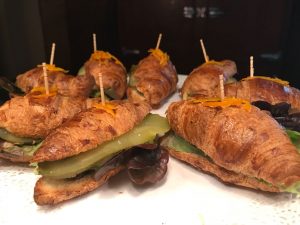 After a drink at the latest addition to Passeig de Born's trendy bar strip, a newly renovated tapas spot, Floris will guide you to one of El Born's favourite haunts. Its high marble tables welcome tourists and locals alike, thanks to its vibrant atmosphere and superior food. They also specialise in vermouth, which is imperative for any trip to the Catalan capital with its rich history and smooth caramel flavours. Thanks to his keen interest in vermouth, it's no wonder Floris ends the tour in this vermouth sanctuary!
The website for Gids in Barcelona is in Dutch, however if you require any further information regarding the tapas tour, Floris welcomes all queries by contacting him at floris@gidsinbarcelona.nl. Similarly, bookings can be made by contacting him via email.