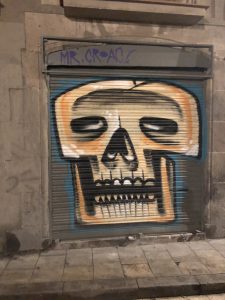 Halloween is less than two weeks away, but why not start the festivities sooner?  A perfect option to turn on those spooky vibes is by going on the Barcelona ghost tour also known as Fantasmas de Barcelona.  It is about a two-hour tour organized by the company Icono Serveis Culturals.  The tour walks you through haunted histories in different corners of the city.
The Haunted Streets of Ciutat Vella
The tour meets right under the Arc de Triomf around 20:00, therefore right off the metro stop Line 1.  The tour begins by walking through Ciutat Vella which means "old city" in Catalan.  Yes, the legends naturally begin in one of the most ancient parts of Barcelona.  Participants wander through the areas of Sant Pere, Santa Caterina, and El Born to get to know the ghosts that lurk around these famous areas of the Gothic, meandering through narrow streets and hidden alleys under a dark night in Barcelona.  Normally, a first-time visitor would not walk through these specific parts of the city nor hear the tales distinct to these streets.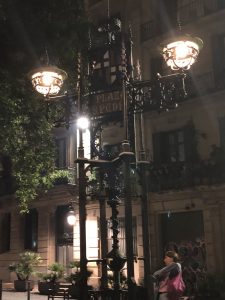 The full tour shares a handful of legends that are centuries old and passed down through storytelling.  One legend is about an old man who sold his very own onions in Ciutat Vella and one day some were stolen. He was furious, then became very paranoid and was determined to find who had done so.  He would ask the men and women walking the same streets, all day and all night, and no one knew. Maybe you'll see him lurking the streets to ask you the same question…However, you'll have to go on the tour to get all of the gruesome details! 
 Then, hear more scary folklore about a haunted hostel, and a love story far from happily-ever-after.  These tales are all special to Barcelona and this ghost tour.
Lastly, the tour ends at the beautiful basilica de Santa Maria Del Mar.  Where you have a chance to snap a photo of the church with a starry backdrop and in the center of El Born.
Tours & Tickets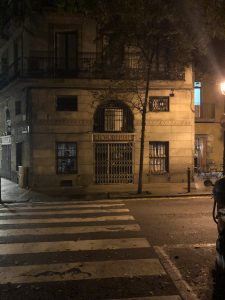 You can buy tickets online  from 12 €.  There are still tours available for the rest of October in both English and Spanish. Limited tours are available in November, so book soon! Feel free to even buy castanyes or boniatos as you walk the tour for a full, fall, Catalan, experience.
On the Fantasmas de Barcelona tour, you uncover the city in a new way and take home haunted tales as ephemeral souvenirs to share with your friends and family.  Be careful, keep your eyes open for any ghastly visitors, and happy early Halloween!