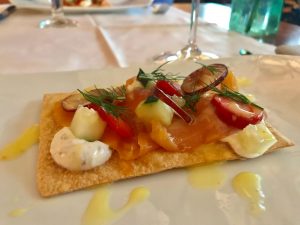 La Pedrera, otherwise known as 'Casa Milà', is one of the renowned architect Antoni Gaudí's grandest and most famous works. Given its acclaim, it is not uncommon to see stretched queues of tourists waiting for hours to get inside. However, with the The Origins' admission not only can you beat the daytime crowds, but it also grants you a unique opportunity to take a nocturnal guided tour of this architectural gem, following a special dinner in the adjacent restaurant. La Pedrera: The Origins package combines Barcelona's signature cultural attractions – gastronomy and architecture – making this an unmissable experience for visitors to the Catalan capital.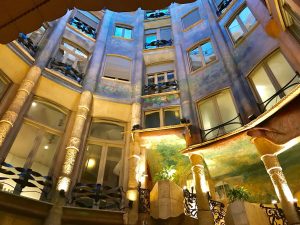 Kick off your multi-sensory experience of La Pedrera: The Origins with an evening meal at the luxurious Cafè La Pedrera, although alternatively you may opt to dine post-tour. Enjoy the views of the iconic Passeig de Gràcia, and admire the unorthodox interior of the Cafè, which offers a taster of the architectural experimentalism of La Pedrera. The photographs from the past century adorn the walls, documenting the history of Barcelona in vivid detail, and provide plenty of visual entertainment as you tuck into your four courses. From a light salmon starter to creamy asparagus soup, followed by either seared tuna or veal shank, your appetite will certainly be satiated ahead of the tour. What's more, those with a sweet tooth will be pleased to hear that dessert is a chocolate brownie, served with a divine coffee and baileys creme.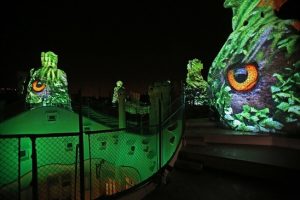 All tours are carried out in small groups, to allow for an intimate and educational experience. From the Passeig de Gràcia and Carrer de Provença courtyards to the Espai Gaudí (in the attic), explore the fascinating one-hundred-year history of this impressive house and its various spaces. You will discover through La Pedrera: The Origins that La Pedrera is a masterpiece of nature, and perfectly encapsulates the very essence of Gaudí's work and his unusual style.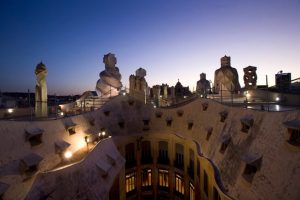 Once you have finished meandering through this emblematic building, your guide will escort you to La Pedrera's spectacular rooftop, where a magnificent La Pedrera: The Origins light show awaits you. The mesmerising display of audio-visuals takes you on an extraordinary journey, returning to the origins of life, and helps us to understand Gaudi's perception of nature. The multiple projections emblazoned on the distinct "badalots", or more commonly known as Gaudí's spiralling chimneys, transform the architectural features into surreal and spectacular objects. This, combined with special effects, innovative design and dramatic music truly creates an unforgettable night-time experience on La Pedrera's roof-terrace.
End your hypnotic evening with a chilled glass of cava – Spain's answer to champagne – along with some sweet nibbles, in the beautiful Carrer de Provença courtyard. Admire the majestic murals, as you reflect on the ingenious work of who other than Antoni Gaudí.