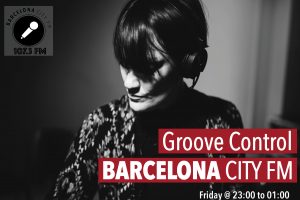 This is the Nightlife desk's recommendation for this week…
Groove Control at Club Belafonte hosted by D.N.S.
Line-Up:
Nehuen (Classicworks / BNR Traxx)
Rollie Kelly
Edvardas Rut (Borderless)
That's Jupiter
D.N.S. (Groove Control)
Groove Control, the Barcelona City FM radio show hosted by D.N.S., hits the road for its last event of 2016.
Out of the studio and into the masses at Club Belafonte Friday 2nd December from midnight til 6 in the morning.
The team are delighted to present an onslaught of underground electronic DJs and producers well equipped for dancefloor mayhem, just the way you like it.
The event will be live-streamed via Barcelona City FM:
https://barcelonacityfm.com/
video flyer:
https://www.facebook.com/groovecontrolbcn/videos/606105109594755/
Groove Control, Friday 2nd December
@Club Belafonte, Doctor Trueta 192, 08005 Barcelona

Tickets; 5€ with name on Facebook event wall / 8€ on the door
more info:
https://www.facebook.com/events/402050646792578/