Come and discover a little corner of paradise, just off the busy Gran Via de les Corts Catalanes in the El Raval neighbourhood. Unlike its Biblical namesake however, nothing is forbidden in El Jardín del Edén and you can relax in the tranquil surroundings, reminiscent of a tropical wonderland. Whether you need a refreshing cocktail to sip on or the complete Mediterranean dining experience to fill you up, this restaurant is fully equipped to fulfil your every desire.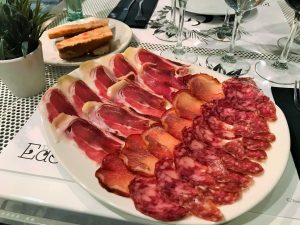 You are bound to be blown away by the ultra modern, trendy interior design of El Jardín del Edén. Encounter quirky impressionist sculptures, juxtaposed by exotic plants and bright displays of lush foliage which create a sense of being in a carefully cultivated garden. Each wall in the restaurant follows a different style, yet the tasteful choices in colours and adornments works well and offer a stylish, elegant feel. We recommend sitting upstairs where more avante garde embellishments await, plus the tables near the balcony have the advantage of a remarkable view of the dining area and bar below.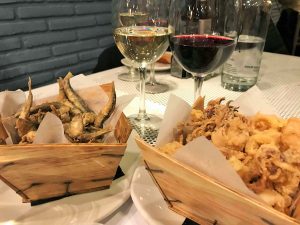 Much of the menu at El Jardín del Edén is traditional Spanish fare, although other international options such as steaks, hamburgers and sausages are also available. Platters of delicately cured jamón are either a typical local starter or an accompanying tapas dish. Alternatively, if you prefer something hot, fried anchovies are a popular sharing dish, delicious with just a drop of squeezed lemon. Being surrounded by so much greenery might give you cravings for one of El Jardín del Edén's many leafy salads, lightly flavoured with homemade dressings. Choose from a wide range of healthy plates, some with succulent prawns or smoked salmon, but all made using fresh local ingredients.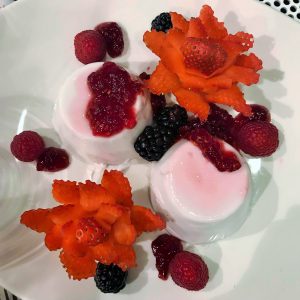 To finish your meal, a vast array of ice creams and sorbets await you, along with several irresistible desserts. The regional speciality, crema Catalana is a sweet dish every visitor to the Catalan capital should try, and El Jardín del Edén's adaptation is simply divine. Alternatively, their coconut panna cotta is a colourful, light treat, as tasty as it is aesthetic.
El Jardín del Edén is an oasis of contemporary refinement and graceful floral displays amidst the crowded Barcelona metropolis. Their menu draws largely upon time-tested Iberian recipes, but includes familiar favourites to ensure there is something for everyone. For many tourists, a meal at this restaurant may well be the highlight of their trip.