Barcelona is known for its variety of streets, each neighbourhood with it's different style. Some are quirky, others timeless, or foodie heaven… and here you have our selection of five of the coolest streets Barcelona.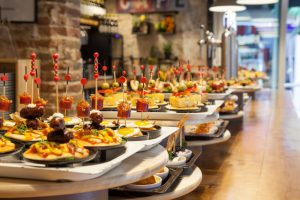 Carrer Blai (Poble Sec)

In a city where tapas are found at every street corner, this street stands out. Most tapas in the tourist districts cost 3€ or more, but Blai allows you to satisfy all of your tapas cravings while paying only 1€ for each. Known for its 'pintxos,' a tapas-style dish consisting of a piece or bread topped with a mouthful of something delicious, this street offers the best in the area for the lowest prices. Some of the most popular restaurants include Blai 9, La Tasqueta de Blai, and Pincho J.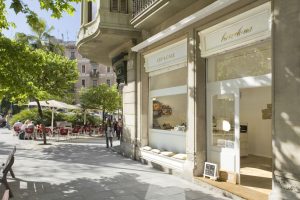 Carrer Enric Granados (Eixample)

Located near the University of Barcelona and stretching all the way up to Avinguda Diagonal, this charming street is close enough to the city centre that it is easily accessible but removed from the main attractions so not as touristy. The colourful and vibrant street is lined with quirky art galleries and delightful cafés. Nearly all the bars and restaurants have outdoor terraces with tables and chairs, making it a perfect spot for a warm summer's day.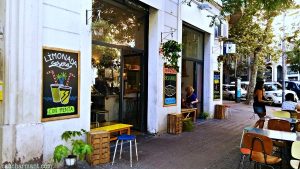 Carrer Parlament (Sant Antoni)

Once an overlooked residential neighbourhood, Sant Antoni is now filled to the brim with international restaurants and casual tapas bars. The area attracts a hip crowd of tourists and locals, who marvel in the approachable and inviting atmosphere of Sant Antoni. One street in particular, Carrer del Parlament, has become popular for all self-proclaimed foodies. If you find yourself in the small and boho area, be sure to stop by Federal, the trailblazing restaurant known for its brunch that seemed to pave the way for the now highly visited street (if you can get a table, that is!)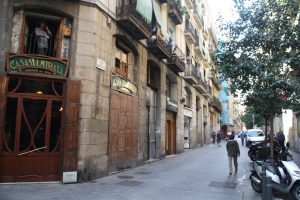 Carrer Joaquín Costa (Raval)

Due to its trendy design shops and funky bars, Joaquín Costa is the perfect spot if you need a nice break from sightseeing to relax and do some people watching. Located in the heart of the old city centre, the hipster fun bars that line the streets make for a memorable night out on the town, as Joaquín Costa is one of the liveliest streets in the city. Our favourites on the street? Cafè Almirall, 33/45, and Betty Ford's.
Carrer Petritxol (Gothic Quarter)

Just a short walk from La Rambla, in the heart of the city, you'll find one of the most historical narrow streets in all of Barcelona. Carrer Petrixol is considered by locals to be one of the most charming streets in the area. Among various shops and numerous restaurants, you'll find 'granjas' scattered throughout for a sweet surprise. These cafés have served the best hot chocolate in Barcelona over the last few decades. In such a large city that seems to change with each passing day, this street feels frozen in time, so be sure to take a stroll and you won't be disappointed.