It is finally time for the Christmas season to start in Barcelona and that means plenty of bright and colorful lights, a huge ice skate rink and of course the oldest Christmas market in the history of the Catalan capital… ¡The Fira de Santa Llucia in Barcelona!
The 233nd edition of this gigantic outdoor fair will take place on November 29 until December 23 outside the Barcelona Cathedral at Plà de la Seu square. This place will be filled with over 283 stalls where you can find handmade gifts, figurines for nativity scenes, and plenty of traditional Christmas decorations. What´s more, there will be several workshops and lots of festive activities for all of the family. If you´re visiting Barcelona at Christmastime, this is certainly one piece of Catalan culture you don't want to miss.
Saint Lucy day
The name of the Fira de Santa Llucia in Barcelona comes from Santa Llúcia or Saint Lucy, so that means that one of the best days to visit the Fira is the Day of Saint Lucy on December 13th. On this day, the market is dedicated to traditional Christmas activities such as storytelling, carol singing, dance performance and even a parade complete with lavish floats.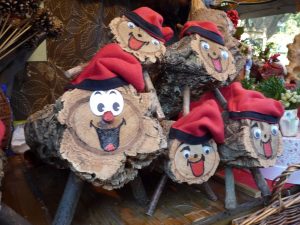 Throughout the fair, there will also be other nice activities to enjoy, such as the giant ´Tió de Nadal´, also known as the caga Tió. The caga Tió is best described as a log with a painted face, a hat and a blanket. The catalan tradition goes that children must ´feed´ their own smaller version of the Tió every day until Christmas Eve, when they will hit him with sticks while singing traditional Christmas carols, until he he ´poops´ gifts and candy. You can grab your own Tió at plenty of the fair´s stalls this year.
Gifts for everybody at the Fira de Santa Llucia in Barcelona
The Fira de Santa Llucia market is split into four sections: Nativity and Figurines section, Greenery and plants, Crafts and Simbombes. The Nativity and Figurines section offers yo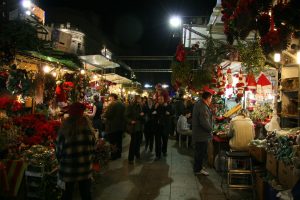 u the chance to buy accessories to create your own nativity scene as well as decorate your home. The Greenery and plants presents natural or artificial trees, moss, tiós figures of various sizes, natural cork, lucky branches and so on. In The Crafts section theres all kind of hand-made products and accessories like jewelery, clothes, decorative objects, gifts and many more. Last but not least, the Simbombes offers you traditional instruments, tambourines and many other instruments so that you can give your Christmas a more musical touch.