Anyone craving Filipino food?  The city of Barcelona is a melting-pot where cultures from all over the world are immersed together to create a special vibe.  Anyone can see this in a matter of seconds while walking the streets of La Rambla. Filipinos have a presence in this vibrant city, especially since Spain colonized the Philippines in the late 1800s.  
There are a handful of Filipino restaurants close to the centre for Barcelona, where visitors can try a new cuisine and natives can fulfill their cravings. Menus include popular Filipino dishes, such as lumpia and pancit as well as more unique dishes such as bopis or lechon. Here are three delicious options for you to explore!
Fil-Manila (Carrer de les Ramelleres, 3)
Fil-Manila is located in the Raval area of Barcelona, just off to La Rambla.  It is tucked away on Carrer de les Ramelleres, but still easy to find.  Its distinct sign is designed with the colours of the Filipino national flag: red, royal blue, and bright yellow.  The restaurant is very family-oriented with large tables and the majority of the menu is served on large plates for sharing.  The menu includes the famous noodle dish, pancit and soup called sinigang.
Their lumpia shanghai is a must-order since it is made and wrapped freshly on site.  It is served with a dozen half-pieces which make them so easy to eat. Prepare to order more than one plate!
King Chow's (Carrer de Villarroel, 46)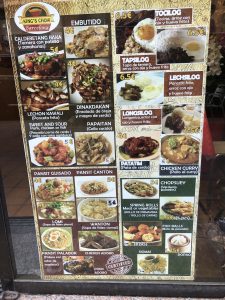 King Chow's is a more discreet Filipino restaurant located in the Eixample area of Barcelona, near Urgell metro, where it easily meshes in with its neighbours.  It is covered with eyecatching menu posters with photos of popular Filipino dishes such as longsilog, lechon, pancit palabok, and calderetta.  These four dishes are well-known and great options for the not-so-adventurous eater!
The restaurant has a cozy feel that makes you feel invited and welcomed.  Greenery hangs from the walls and each table has a flower centrepiece. The menu is lengthy, but keep in mind that portions are meant for one to two people. 
If you visit, their siapao is a dish worth trying, especially only at 1,25 euro a piece!  Siapao is a round, fluffy, white bun filled with shredded meat, usually beef, and served with a savory sauce on the side.  It is made freshly at the restaurant and best to arrive around 1:00pm to order one right out of the steamer. It may not look exciting, but it is a simple and delicious treat.
Los Hermanos (Carrer de Villarroel, 26)
Los Hermanos is the liveliest out of the three with people sitting in every part of the restaurant: outside, in the main restaurant, and even toward the end by the kitchen. It is only a block away from King Chow's too, so less than a mile away from Plaça de Catalunya.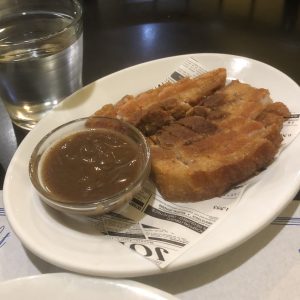 The restaurant has a full menu with appetizers to share and individual entrees.  One of their specialties is the classic chicken adobo with extra sauce, which is perfect to mix in with their garlic fried rice.  The savoury sauce is made with soy sauce and vinegar as it's base. When you visit, be sure to order the lechon kawali, a very popular dish in the Philippines.  It is deep fried pork and so tasty! It is a famous snack and one can say it is a Filipino tapa.
Los Hermanos also has an extensive selection of wine and beers to enjoy with their Filipino food.
Fil-Manila, King Chow's, and Los Hermanos each provide a fulfilling, Filipino meal and make you feel like family.  This family vibe is present through the decor, the staff, the portions, and most importantly how you can take your time enjoying it all.  Enjoy!