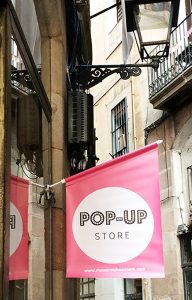 If you know your apparel, the word "pop-up", is likely to have come up. The idea of pop-up retail is increasingly popular, and plays on our love to own unique clothing and shopping for cool, undiscovered brands. Open only a couple of days at a time and often made up of sample clothing (clothes that are made in the initial design stages, or the first creation of a design that will later be mass produced), pop-ups are fashion's next big thing.
On the Barcelona scene, a certain pop-up has caught our eye. Enter My Secret Showroom, a pop-up that emerges every month or so.
A visit that was initially research only but that turned into a little shopping spree proved the quality of this pop up! In the Born area, I spoke to Cécile, the brain behind My Secret Showroom. Having lived in Barcelona for over 10 years, she saw an opportunity  through her work with boutique clothing brands… "to meet a new public and for the customer the idea of finding a space where you can find your favourite brand(s) but also discover new ones both with the best deals". A lover of the surprise find, the excitement behind this initiative is apparent.
Featuring both men's and women's clothing (this can be a rare find), discounts range from 30% to 50%. This means you can easily find a scarf for 15€, and to top that the quality of the clothes is clearly on Cécile's mind. Everything is well constructed, and made from immaculate fabrics. Most of the clothes on show are from new or upcoming collections, so first dibs belong to those who make their way to these pop-ups.
Keep an eye out and sign up to the mailing list on their website to get updates on upcoming pop-ups, and see for yourself!