Barcelona is a city where many iconic streets can be found. In these streets you will be able to find plenty of landmarks, lovely food markets and some of the cities' most beautiful squares. As there are so many famous and iconic streets in Barcelona, we figured we might offer you some help by showing you how to discover the most famous streets in Barcelona! Continue reading and find out everything you should know to enjoy your next stay in Barcelona to the fullest!
La Rambla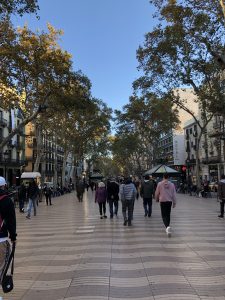 There is simply one street to start with when naming the most famous streets in Barcelona. La Rambla of course! La Rambla is arguably the most famous street in Barcelona, and it is home to many great spots for you to discover. 
For example, you will be able to find Plaça Reial. This square is an amazing place to have dinner after a long day of sightseeing in Barcelona. It is home to many great restaurants, and there are also many street artists that perform for passersby as they enjoy their meal! A little further up La Rambla you will find the famous Boqueria Market. This place is one of the most important gastronomical markets in Europe. It has more than 300 stalls with amazing and traditional Catalan food for you to try!
Passeig de Gràcia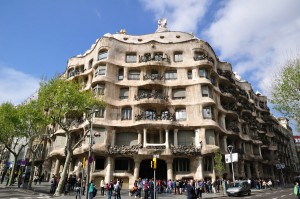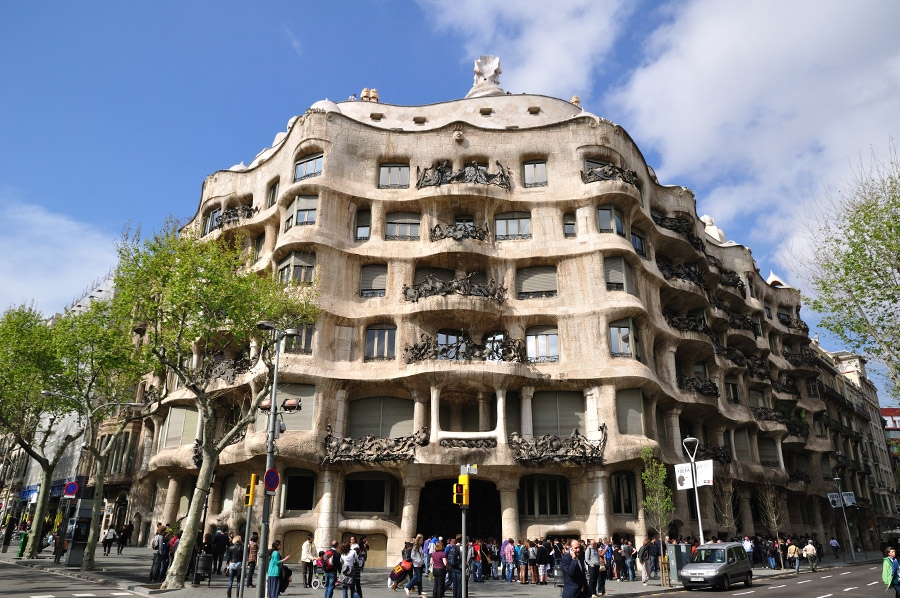 Next up is Passeig de Gràcia. Perhaps the wealthiest street you can find not only in Barcelona, but in Spain as well. Some of the most luxurious designer brands are found in this famous street. From Louis Vuitton to Rolex, you can spot them all over the street. 
Passeig de Gràcia is also a place where many famous landmarks can be found. Casa Batlló is one of the most iconic buildings to be found in this street. It was designed by Antoní Gaudi, the architect of the Sagrada Familia, in 1906. It is famous for its amazing architectural design as it resembles a dragon. Another very famous building situated in this street is Casa Milà, also called La Pedrera. This building is also designed by Gaudi after the Milà family asked Gaudi to design a building for them similar to Casa Batlló. Gaudi went his own way and designed something totally different. This turned out to be a great move as Casa Milà is nowadays one of the most famous landmarks Barcelona has to offer!
Passeig del Born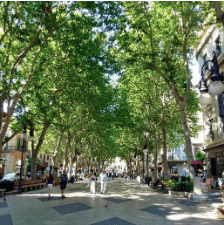 For all history lovers, Passeig del Born is a must-see. The whole street has an amazing medieval appearance which expresses itself in its characteristic bars and restaurants found here. Passeig del Born dates back to medieval times and it used to be a place where tournaments took place. In addition to this, the Siege of Barcelona in 1714, when Felipe V occupied the streets, his troops made El Born a stronghold. Make sure to put Passeig del Born on your list for your next visit to Barcelona as it will give you the feeling of traveling back in time!
Avinguda Diagonal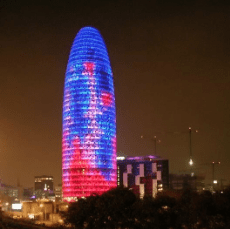 The last iconic street in Barcelona that we would like to share with you is Avinguda Diagonal. As the name suggests, this 11-kilometer-long street crosses Barcelona diagonally all the way from the mountains to the sea. As you make your way on the Avinguda Diagonal, you will find various shopping centres, parks and emblematic buildings. One building you definitely need to visit during your next stay is the Royal Palace of Pedralbes. It is a beautiful building, and the surrounding garden is the perfect place for a lovely walk. 
Another must-see on this avenue is the Agbar Tower, an immense skyscraper with a height of 144 meters. Especially at night, when the tower lights up, the view is spectacular!