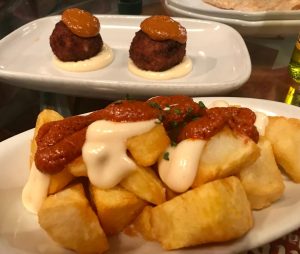 Discover Barcelona's best kept gastronomic secrets, traditional beverages and remarkable sites with Eye on Food Tours. Roam the city's enchanting medieval districts as your knowledgeable and animated guide takes you off the beaten track to sample authentic fare, whilst exploring the quaint neighbourhoods of El Born and the Gothic Quarter. Whilst food tours exist all over the city, the Sips, Sites & Bites route satiates your thirst for knowledge and cava simultaneously, satisfying both culture vultures and foodies alike.
This 3.5 hour tour includes five family-owned bodegas and tapas bars, 12 delicious tastings and five drinks for a quintessentially Catalan experience. At each stop, your guide will order a selection of tapas dishes – croquettes, patatas bravas, pan con tomate, bombas – amongst several other local concoctions that will leave your tastebuds singing with joy. Each round of food will also be paired with cava, wine, vermouth, beer or a clara to provide the opportunity to sample some of Catalonia's most popular beverages. However, fear not, if something isn't to your taste throughout the tour, your accommodating guide welcomes suggestions and recommendations as to what to order.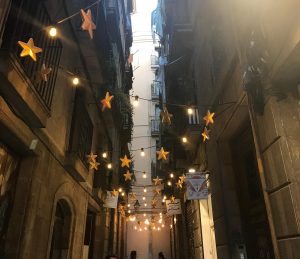 Whilst Eye on Food Tours ensure that the experience is educational by delving into the history of the eatery and the dishes served at each spot, their top priority is to provide a memorable, unique and above all, enjoyable time with your loved ones. The abundant energy and enthusiasm injected into each tour by your guide is what makes Eye on Food Tours stand out from their competitors, as not only do you leave feeling full (make sure not to have dinner plans for after!), but also having made friends for life.
In addition to seeking local Mediterranean flavours in Barcelona's sidestreets, Eye on Food Tours equally endeavour to share the metropolis' rich cultural heritage with you. With a fascinating history spanning more than 2,000 years, full of intriguing legends and stories, this tour leads you through the winding backstreets of the Ciutat Vella district. Explore the Plaza de Rei where Queen Isabella and King Ferdinand held court in the 15th century, as well as the impressive 14th century Basilica de Santa Maria del Mar.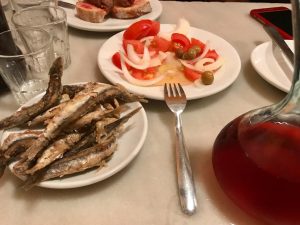 It goes without saying that squeezing in all the sites and also sussing out the city's food gems can be tricky business with only a few days in the city. So why not leave the hard work to Eye on Food Tours, where they'll kill two birds with one stone with their wealth of Barcelona food and history knowledge. What's more, at the end of your tour, they'll send you a video highlighting all the best bits of your time with them – the ultimate keepsake of your unforgettable culinary experience with Eye on Food Tours.