Known for having previously been the darker and seedier side to Barcelona, El Raval has been transformed over the past two decades to become the rough gem of Barcelona. Having been home to the city's red light district, El Raval underwent a massive revival thanks to investment by the council and today it is one of the most hip and trendy barrios to frequent.
El Raval has been converted into a fashionable and cosmopolitan neighbourhood, with a rich history, an authentic character and a lively atmosphere. During the day, aesthetes from all generations indulge in the art galleries, independent shops and cafés which El Raval has on offer. When the sun sets however, classy bars and restaurants become the focus with late night clubs springing up all over.
To Eat:
DosTrece
Open all day, every day, this charming café located in the centre of El Raval has been serving one of the best brunches in Barcelona for a while now. A fantastic and extensive menu, complete with an exclusive vegan section, this spot is also somewhat of a modern classic for dining, so whether it is morning or night, make sure to pop in for a bite to eat.
Carrer del Carme 40; Metro – Liceu (L3); open 10am – 1am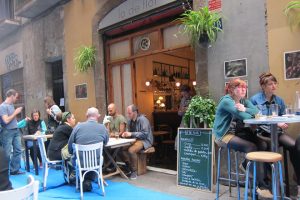 Lo De Flor
Opened in 2011, this charming place has an awesome interior décor, very detailed and with lots of light, where wood and painted furniture give it a very rustic and authentic feel. Combining different Mediterranean cuisines from France, Italy and, of course, Spain, the menu is genuine with home-made dishes and fresh fish in constant rotation on their blackboard, and with their more traditional dishes such as beef tartar with herrings having a permanent place on the menu.
Carrer de les Carretes 18; Metro – Sant Antoni (L2), Liceu (L3); open 8pm – 2am
Cera 23
Opened in July 2011, quality and creativity have been the targets from the very beginning of Cera 23. Sitting at your table you can watch the chefs prepare the dishes in which you will later indulge. The philosophy of the two friends who run this restaurant is to combine Galician and local ingredients but to make a difference from any typical Galician restaurant, they incorporate products and techniques from other cuisines. With a varied homemade cocktail menu, this is the perfect place for spending a great evening with your family and friends.
Carrer de la Cera 23; Metro – Sant Antoni (L2); open 1:30pm – 4pm, 7pm – 11pm
To Drink: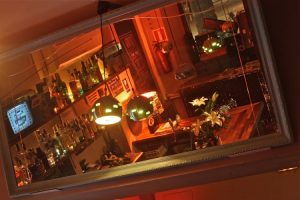 Cassette Bar
One of the spots to be for the hip and cool youth of Barcelona, this place has its lamps wrapped in cassette tape, a giant robot drawn on the wall and the latest in indie and electronic music being played. With an incredible combination of futuristic and retro vibes, this place has become very popular among the millennials of Barcelona and is a must for a late-night drink in El Raval.
Carrer de l'Est 11; Metro – Drassanes (L3); open 7pm – 3am
London Bar
London Bar is basically a pub, but one which has been open since 1910 and used to be frequented by the likes of Hemmingway, Orwell and Picasso. Today, it is home to those who love a late night and are daring enough to try their absinthe. Since its live music licence was revoked, this place has relied on its unique character and history to keep going, and it hasn't struggled, making it a must for a drink in El Raval.
Carrer Nou de la Rambla 34; Metro – Liceu, Drassanes (L3); open 2pm – 4am
Things to do: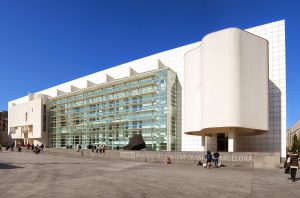 MACBA, Museu d'Art Contemporani
Opened in 1995 and signalling the true start of El Raval's revival, MACBA has gained international recognition for their collections and exhibitions of contemporary and modern art. They aim to give the public a diverse range of art and visions, stimulating our minds and enabling us to further educate ourselves, asserting Barcelona as a prominent hot spot on the world art scene. Whether you are an art enthusiast or not, this is an absolute requisite for not only El Raval, but Barcelona on the whole.
Plaça dels Àngels 1; Metro – Universitat (L1); open Monday, Wednesday, Thursday and Friday: 11 am to 7.30 pm. Tuesdays: Closed (except public holidays). Saturdays: 10 am to 9 pm. Sundays and public holidays: 10 am to 3 pm.
CCCB, Centre de Cultura Comtemporània de Barcelona
The Centre Cultural Contemporani de Barcelona emphasises the importance of creative research and strives for new knowledge in the 21st century. The Centre integrates digital works in its galleries, exhibitions and Archive. This is in stark contrast to the site's historical background, which can be traced back hundreds of years, where monasteries then military barracks once were, and for decades an Almshouse. The combination of the CCCB and MACBA has massively helped in the regeneration of El Raval.
Carrer de Montalegre 5; Metro – Universitat; open Tuesday to Sunday (and Public Holidays): 11am to 8pm. Mondays: Closed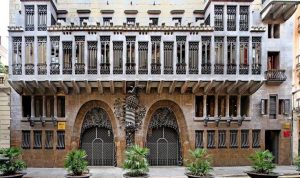 Palau Güell
The Palau Güell, originally built for Eusebi Güell (who later funded Park Güell) is another example of Gaudí's incredible influence and importance in Barcelona's modernist architecture. Located just off La Rambla and on the outskirts of El Raval, the Palau Güell today is home to a collection of art as well as hosting a variety of concerts and activities for a wide audience. Combining arts and music whilst letting the public marvel at Gaudí's creative, architectural flair once more, it is essential for all lovers of Catalan culture.
Carrer Nou de la Rambla 3-5; Metro – Liceu (L3); open Tuesday to Sunday: 10 am to 8pm (summer: 1st April-31st October) and 10am to 5:30pm (winter: 1st November-31st March). Mondays: Closed.
Shopping: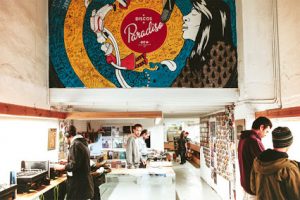 Discos Paradiso
A refreshingly clean and well-organised record shop, Discos Paradiso has gained international recognition and is the first stop off point for many DJs, such as Jackmaster and Ben UFO (whose polaroids can be found on the wall along with many others), when they arrive in Barcelona. Stocking tens of genres and thousands of records, they have four turntables for customers to listen before purchasing, as well as a hefty sound system out back which regularly hosts visiting DJs and artist promotion. Vinyl collectors will want to set aside a few hours for this shop, but it is a shop that will certainly have something for all music tastes.
Carrer de Ferlandina 39; Metro – Universitat (L1); open 11am – 9pm
Rufus Skateshop
Located right next to the heart of Barcelona's skateboarding scene, MACBA, this place has become more than just a shop. Its slogan 'Thank you 4 skating' can be found all over what has become a hang-out for many professional and amateur skaters alike. With a great selection of footwear, clothes, accessories and of course, skateboards, this is one of the best shops in Barcelona for anyone interested in skate and surf culture.
Carrer de Ferlandina 39; Metro – Universitat (L1); open 11am – 9pm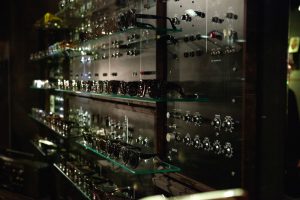 Wilde
This tiny shop has a massive variety of vintage sunglasses. Its doors were opened in 2008 by its owners, Cao and Teppei from Manchester and Japan respectively, they stock original and unused shades from the second half of the twentieth century, including heavyweight brands such as Yves Saint Laurent, Christian Dior and Ray-Ban. They also stock more inventive new styles from designers Shwood and Bob Sdrunk, as well as their own store brand.
Carrer de Joaquín Costa 2; Metro – Universitat (L1), Liceu (L3); open 12pm – 9pm