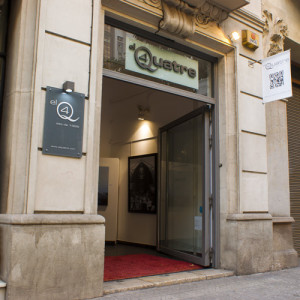 El Quatre contemporary art gallery, celebrated its 30th successful year this week. Having opened on the 4th April 1986, the Gallery has hosted many local and national artists over this period, helping to pathe the artist's way to greater recognition and future accomplishments. To celebrate El Quatre's 30 years, the owners have decided to hold 30 different expositions from 30 of their current artists, over 30 weeks of the year.
Whilst adapting to the changes in the outside world, El Quatre has also been able to replicate the dynamism, creativity and sometimes volatility of the art world. The lively demand for contemporary art, and El Quatre's positive attitude have helped to create a special and unique gallery in the streets of Eixample, Barcelona.
The Gallery exhibits a range of sculptures and paintings from the contemporary era and style. All artwork is temporary as it is available for private sale, meaning no visit will hold the same pieces of work. This enables the Gallery to embrace an interesting and varied collection of work from its array of artists. Entrance is free, and with the 30 focus collections this year it is a great to visit this small and quirky gallery.
For more information on the 30 collections this year or for general information please go to their website.