You may have chosen to holiday in Spain, but that doesn't mean you don't want to sample other Mediterranean cuisines, such as Greek food. It can be just as fascinating and rewarding to sample foreign fare whilst abroad, as trying the native foods available. If you are an adherent to this belief, or simply want a break from Iberian tapas, why not try El Magraner Boig for an authentic, unpretentious Greek dining experience.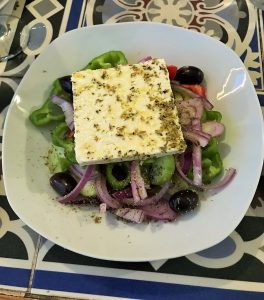 El Raval is the neighbourhood home to El Magraner Boig; a colourful up-and-coming district with a burgeoning restaurant scene. True to the intentions of El Magraner Boig's founders, the interior aesthetics mirror those of a typical Patras or Athenian eatery and you will forget you are in Barcelona from the moment you enter. Minimalistic decoration and rustic tables and chairs gathered around a long bar area add to the simple charm and appeal of the venue. This is not to say the restaurant is entirely isolated from its Spanish surroundings however. On the drinks menu you can find Barcelona's ubiquitous Estrella Damm beer, wine from the Rioja region, and vermouth. But, these are mere exceptions to the rule as the vast majority of food and drink is Greek in origin, recipe and presentation.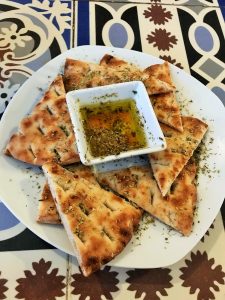 El Magraner Boig gives a final nod to Spain's influence by dividing its menu into aperitifs, salads, tapas, main dishes and desserts. Be warned however, though tapas dishes often come as small accompaniments, at El Magraner Boig they are large, filling portions that will not fail to leave you both satisfied and full. Naturally, everyone's favourite Greek cheese, feta, features heavily on the menu, in virtually all the categories. It is served both cold, for instance in the traditional Greek salad, and hot, as in the feta mpougiourdi, an oven-baked assortment of peppers, tomatoes and aromatic herbs.
Plates with names such as kolokithokeftedes and loukaniko sxaras may present an uncomfortable mouthful when trying to order, but rest assured, your tastebuds will thank you for making the effort! Kolokithokeftedes are wildly popular fried zucchini balls with dill and olive oil, whilst the loukaniko sxaras is a grilled lamb sausage that has been part of the Greek palette since the time of Socrates! Fortunately, you don't need to bring a Greek-English dictionary with you to El Magraner Boig as the menu includes useful descriptions of all the options in English.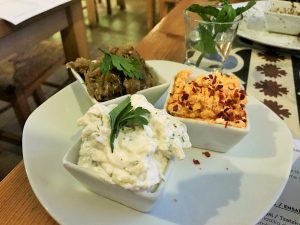 To complete your Greek experience, you must try either ouzo (a dry anise-flavoured spirit) or tsipouri (a pomace brandy). You could even begin your meal with an ouzo aperitif and finish it with a tsipouri – though this isn't recommended if you have sightseeing plans early the following day! Throughout your evening, the gentle melodies of authentic Greek music will serenade you above the excited chatter of your fellow diners and the noises of the street outside. All factors combine to create a very different dining experience in the Catalan capital and certainly not one to be missed.