El Chigre 1769 unites two regions of Spain with some of the strongest gastronomic traditions under one roof. In the shadow of the stunning Santa Maria del Mar church, renowned chef Fran Heras brings together the best of both Asturia and Catalonia to create a distinct cider tavern, traditional vermuteria and popular tapas restaurant. A broad menu offers a range of classic Iberian recipes and makes El Chigre the ideal tourist stop for either a light snack or a lengthy dinner.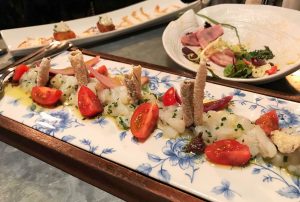 Modelling itself on a quintessential Asturian cider house, the architecture of El Chigre is a wonder to behold. The building dates back from – you guessed it – 1769, and the tall bar stools, long wooden tables and dark wood panelling have probably not changed much since then. Minute details add to the overall impression that you have stepped into a 19th century tavern, such as sawdust strewn on the floor to absorb spilt cider and the absence of a modern coffee making machine. An informal, friendly atmosphere pervades the main room which opens out onto the kitchen behind the bar. For any newcomer to the Catalan capital, it gives the impression of a truly authentic experience.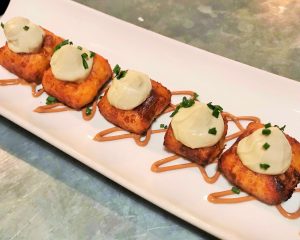 The cuisine at El Chigre 1769 is centred around two key concepts: DNA and Km0. DNA refers to their dedication to serving Catalan and Asturian specialities, which is at the core of the restaurant's very essence. Km0 on the other hand is El Chigre's commitment to sourcing local products in order to support small businesses, reduce their carbon footprint and ensure that the freshest ingredients are used. As such, their menu contains only traditional Iberian gastronomy made with top quality produce.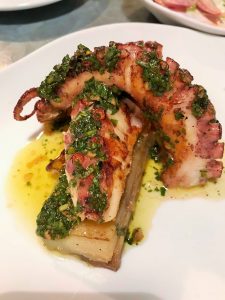 Certain options on the recipe fully represent the El Chigre's DNA promise, for instance their spiced Catalan chorizo cooked in Asturian cider. Most however, are characteristic of either region, and you may find Barcelona's favourite side dish of pan con tomate alongside a broad selection of Asturia's speciality: cheese. For a truly spectacular dish, popular with locals and tourists alike, we recommend the octopus with seaweed sauce and buttery potatoes. Alternatively for the vegetarians, the green salad with mustard and honey offers a healthy leafy main.
El Chigre 1769 will mostly appeal to fellow lovers of tradition and Iberian cuisine. Its location in the heart of El Born makes it a favourite with tourists and the picturesque exterior draws patrons in like moths to a flame. For a rare blend of both Asturia and Catalonia in one venue, head to El Chigre for an authentic Spanish meal.