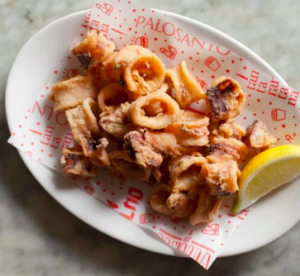 If you're looking to escape the hustle and bustle of the city for the evening, why not venture out to Sarrià – a quintessentially Catalan neighbourhood, a mere 15 minutes from Plaça de Catalunya. This tranquil barrio is home to one of Grupo San Telmo's lesser known restaurants by tourists – El Canalla – a cosy eatery boasting a wealth of tasty tapas. This wine cellar certainly is the place to be to enjoy delicious Mediterranean cuisine and tasty tapas, surrounded by locals in a vibrant atmosphere – especially if you come on a Friday or Saturday night.
As with all of Grupo San Telmo's restaurants, all ingredients used in their dishes are market-sourced creating beautifully fresh and exquisite flavours. Their varied and tasty tapas menu also means that there's something to suit everyone, whether you're a herbivore or a carnivore, foodie or non foodie. What's more, the health conscious amongst you will be pleased to know that their salad section includes some of the best salads in the city (no exaggeration). We highly recommend their beluga lentil concoction, which is sweetened by caramelised onions and provides the perfect contrast for the spinach, feta, eggplant and lentils. Alternatively, if you're feeling naughty, their burrata salad is simply out of this world – creamy, decadent and wonderfully tasty – especially when paired with the sweet chutney and homemade pesto that it is served with.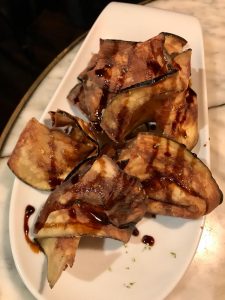 That said, with a place like El Canalla, we advise sharing a variety of dishes so that you have the opportunity to sample some of their more unusual combinations as well as their take on traditional and time-tested recipes. Their finely sliced eggplant, lightly fried and drizzled with honey and a squeeze of lime is truly fantastic and extremely moreish, especially alongside their beetroot houmous – two dishes that feature strongly in Middle Eastern fare too. Another strong favourite from their menu's tapas section is their squid rolls – a unique concept resembling a sandwich with bread rolls filled with squid in its own ink and coated in a garlic aioli sauce.
Their main courses can be enjoyed either individually or shared by the table, however we recommend the latter. Their twist on the popular Peruvian dish, ceviche, will certainly add that exotic kick to your meal, although if you'd rather take the opportunity to try staple Catalan dishes, go for their escalivada or green asparagus with romesco sauce. This fantastic nutty and red pepper accompaniment (rather similar to pesto) is perhaps most commonly served with calçots in spring, however is equally favoured by the Catalan's for its perfect pairing with asparagus and other root veggies.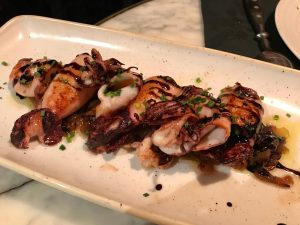 As if they hadn't proved their superiority enough compared to their tapas restaurant neighbours, El Canalla continues to exceed all standards with their scrumptious dessert menu. You simply must order their iconic lemon pie, which is served at all of Grupo San Telmo's, attesting to its high demand and superior quality. Its sweet, creamy and heavenly citrus centre paired with a layer of gooey meringue is truly a taste to be savoured and will leave your tastebuds singing with joy. Those with less of a sweet tooth on the other hand, and with a passion for chocolate should try their chocolate ganache dessert with a olive oil caviar – tapas dining just got a whole lot fancier!