Eat street is a gastronomic festival of high quality street food in Barcelona, organised monthly this food fair welcomes various culinary masters to tickle your taste buds and open your minds. From chefs and baristas to wine experts and top notch brewers, there's something for everyone at this gastronomic show of talent. With a great vibe and the love of food central to this unique event, there is something at Eat Street for everyone to enjoy. Located at Nau Bostik on Carrer Ferran Turné 11, the nearest metro stop is La Sagrera Meridiana followed by a short 10 minutes walk, getting there is simple.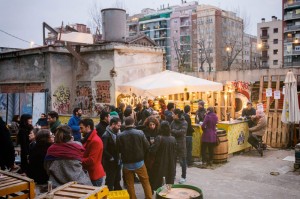 The team at Eat Street promise big things from the new venue, an old Bostik glue factory that was abandoned ten years ago it has recently been reclaimed for cultural purposes. Think loading docks, warehouses, ramps, graffiti and large open spaces a definite up and coming cultural benchmark, it's the perfect destination to spend your Saturday in the sunshine.
In their manifesto Eat Street, in short, strive for quality street food from local, passionate chefs in a relaxed enjoyable atmosphere. Eat Street challenges the sometimes negative image associated with food trucks, proving that great food can come from them and the chefs that own them. Eat Street say that they are a 'gastronomic initiative and our challenge is to improve the food, service and atmosphere ensuring that quality reigns.'
Every year they save spots for new talent, its up the team who put this great event together whether they are good enough for the high standard already met and if they can come back after their first round. So, without a doubt, you can expect exceptional quality from the chefs as they don't just accept anyone.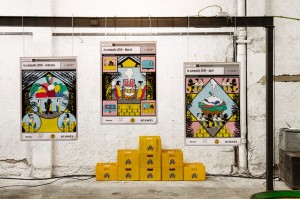 So what makes Eat Street special? The team at Eat Street claim they are different in the way that they enable direct culinary contact between chef and the public. It is an international street food party with sincere passionate and adventurous chefs, with equally passionate food loving diners. Participating chefs can bring only a maximum of two dishes, that they have perfected specially for this event, doing one thing and doing it very well. What's even better is the dishes do not break the bank, costing only €5 for each and every dish, thus Eat Street remains grounded and accessible offering everyone a chance to try the culinary masterpieces on show.
Some of the venders you can expect to see at Eat Street include the farmers market The Petit Banê, where you can buy organise fruit and vegetables, or a smoothie or fruit salad to go. The Milk & Coffee provides 100% electricity free coffee, with their coffee machine pedal powered their coffee is both unique of great quality and environmentally sustainable. What's more, they also design and produce their own range of mini sweet treats to enjoy alongside your coffee. If you fancy something a little stronger, The Tropical Cocktail Bar offers amazing homemade cocktails giving you a taste of the Caribbean, or if beer is your thing Garage Beer and Barcino Brewers provide great local brews.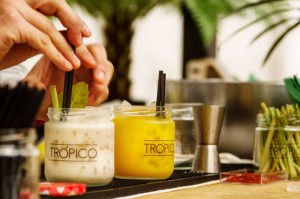 With food inspired from all over the world, from Japanese, Argentinian, Mexican, Peruvian, Spanish and even English there is a great opportunity to try something new or stick to your beloved favourite, which ever route you choose be sure to visit this culinary wonderland to enjoy great food and drink at affordable prices, proving an alternative yet exciting day out. Also look out for Eat Streets other foodie events over the year, they plan on hosting interesting debates, workshops, farmer's markets and presentations showing gastronomic documentaries and many more.