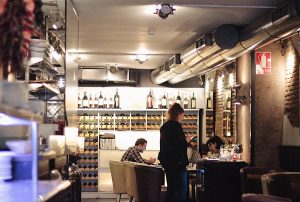 The Barcelona foodie scene is saturated with swanky eateries and exclusive tapas restaurants. However, after a long day of sightseeing around the city you don't always feel like dressing up to the nines and splashing out on a pricey meal. Divinus is the perfect compromise for a relaxed, delicious and reasonably priced meal for eating out on Passeig de Gràcia boulevard.
If you're spending a considerable amount of time in the Catalan capital, you may begin to find the city's repetitive offerings of patatas bravas and pan con tomate rather monotonous. With Divinus' extensive menu comprising of pizzas, pastas, salads, burgers, sandwiches, casseroles, meat and fish dishes, it is rare to find such variety when eating out on Passeig de Gràcia. We recommend their chargrilled chicken paillard, topped with rocket, parmesan and sun-dried tomato pesto – a tasty and healthy replacement to tapas – or their tangy tuna tataki. Alternatively, their pizzas are a fantastic option and a guaranteed crowd pleaser, especially for families with children who are craving a taste of home.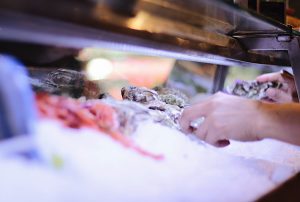 That said, in addition to their range of international plates, Divinus offers an assortment of local dishes for those looking to sample traditional cuisine. Their vermuteria section of the menu includes typical snacks that would be found in an authentic bar in Catalonia, and are perfect to graze on as you enjoy a refreshing clara or decide what to order. Their array of tapas options, on the other hand, can be enjoyed as either a starter or main. From their tortilla con jamón ibérico to Padrón peppers, you can try various traditional and classic tapas dishes for a true taste of Spain whilst eating out on Passeig de Gràcia.
If you prefer a more hearty main course, one of their paellas or casseroles are perhaps better suited to you. The casserole is a staple Catalan dish and marries a flavourful cut of meat (usually beef) with local and fresh ingredients, and is well worth trying. Their paella is also truly unmissable, and offers the seafood variety which is typical in Spain's coastal regions like Catalonia. With its overwhelming colours, aromas, and fresh taste of the Mediterranean – whether its at Divinus or elsewhere –  a paella is a must whilst in Barcelona.
If you're looking for somewhere to please even the fussiest of eaters, for a casual lunch or evening meal, Divinus is an unparalleled choice. What's more, their fabulous terrace is the perfect place to enjoy a spot of alfresco dining, as you watch the hustle and bustle go by.