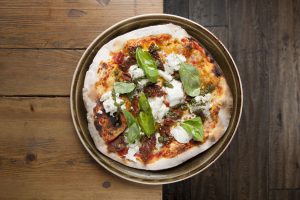 Are you looking for a special place to have dinner near La Rambla? Located just a stone's throw away from the iconic boulevard is a foodie gem serving a delicious range of dishes, spanning from local tapas to pastas, wood-fired pizzas, salads and sandwiches. Their extensive menu suits a variety of palettes and has something for everyone – whether you're seeking a taste of home or looking to sample traditional recipes with a contemporary twist. What's more, Luzia's central location makes it the perfect spot to enjoy a memorable dinner near La Rambla with your loved ones after a day of traipsing around the city.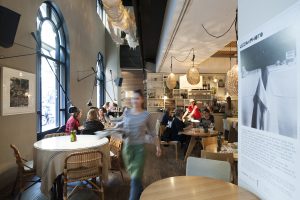 We recommend kicking off your meal at this fabulous eatery with one of their boozy cocktails as you peruse the menu, which are both delicious and will get you in the mood to enjoy Barcelona's vibrant nightlife scene. Their drinks menu includes your typical fruity concoctions, such as minty mojitos and tangy Moscow mules, as well as more unusual combinations, like their 'Kraken', to please the experimental drinkers amongst you.
Given Luzia's expansive selection of dishes, it's advisable to order an array of tapas to sample some local favourites, which whilst you may find them at many restaurants across the city they often fail to match Luzia's high standards. Our favourite is their honey and balsamic drizzled aubergine, which unlike several other tapas eateries, Luzia services thin and crispy – the perfect appetiser to enjoy alongside other tasty tapas plates. Additionally, their Iberian ham croquettes are a must and a staple in Catalan cuisine given their scrumptious creamy centre, and is the ultimate naughty comfort food (who cares, you're on holiday!).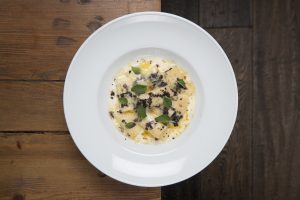 For your main course, you can opt to either share a few of their entrées in true tapas style or alternatively order your own individual dish. You simply can't come to Luzia and not order one of their pizzas, made just like the Italian intended in a wood-fired oven, to create that fantastic balance between a crispy crust and delicately cooked toppings. Their pasta is equally impressive, especially their truffled rigatoni au gratin with a parmesan cream sauce which will leave your taste buds singing with joy. Whilst truffles are commonly used in local recipes, Luzia truly raises the bar with this heavenly creamy and cheesy dish. That said, if you're a truffle fan but would prefer something lighter, their free range chicken with peppers and truffled potato is also a winning dish of Luzia's.
Wine is central to gastronomy in Catalonia, therefore Luzia provides the perfect opportunity to sample local wines from the surrounding Penedès region. Try their Petit Caus rosé wine, which is a blend of several grape varieties: merlot, tempranillo, syrah, cabernet sauvignon and cabernet franc. This young wine, with its crisp aromas of red fruits, pairs wonderfully with pasta dishes and salads – both of which Luzia excels in! Dinner near La Rambla has never tasted so good…