The Catalonia Barcelona Plaza Hotel is a fully equipped business and leisure hotel, best known for its unparalleled location on the iconic Plaça Espanya. Few people are aware however that the hotel's rooftop takes full advantage of this exceptional positioning, utilising the space for both a swimming pool and restaurant. You don't have to be a hotel guest to dine in this visually and gustatory delectable environment so book your table on floor 8 today for an exquisite experience of rooftop terrace dining at Plaça España.
Open spaces are few and far between in the densely populated metropolis of Barcelona and wide panoramic views even rarer. As such, the majestic vista afforded from the hotel rooftop of Montjuïc hill, the Museu Nacional d'Art de Catalunya and Plaça Espanya itself is a gem to be treasured. The seating area sprawls across the terrace, encompassing tables around the pool, an elevated lounge area and bars along the edge of rooftop. These bars should be your first choice if you want to fully appreciate the view and relish the chance to watch night descend on the city below.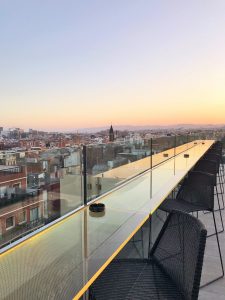 Whether you plan on sampling the cuisine at Catalonia Barcelona Plaza Hotel or not, trying a few of their divine cocktails is a must. Their bartenders have a knack for creating refreshing, fruit-infused blends that remain delicious right down to the last drop. The Spicy Margarita is a perfect example, combining the citric zing of lime juice with a spicy kick that gives the drink its name. Other gin-based cocktails utilise lemon and lime mixers for the perfect cooling beverage.
For the full Catalonia Barcelona Plaza Hotel treatment, make sure to try some tapas dishes or stay for the full al fresco rooftop terrace dining at Plaça España. No matter what you order, it is guaranteed to be top quality cuisine. The sharing options are essentially traditional tapas dishes, including local favourites pan con tomate (crusty bread 'buttered' by rubbing tomato, olive oil and garlic) and patatas bravas (fried potatoes with a unique garlic and tomato sauce). Also to be ordered are Spain's internationally renowned croquettes with acorn-fed Iberian jamón.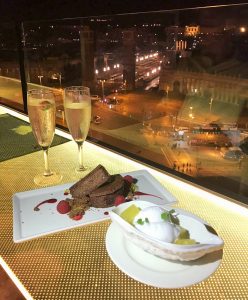 The rest of the rooftop's savoury menu is occupied with healthy salads, fresh fish dishes and two beef plates for the true carnivores amongst you. Their Ensalada Caprese is the perfect light accompaniment of delicate mozzarella slices and ripe Spanish tomatoes. From the fish selection, the octopus truly stands out, cooked to perfection and served with buttery slices of potato. If you ask for recommendations however, the staff are most likely to direct you to the 1.5 kg Galician ribeye steak; a mammoth portion that is intended to be served for two people minimum.
Finally, as twilight reigns over the well-lit pool area and the view transforms into a dizzying array of neon lights, end your meal with one of the hotel's homemade desserts. Their Chocolate Sandwich is a delicious authentic chocolate cake and undoubtedly the best option for those with a sweet tooth. In contrast, the Pineapple-Coconut-Rum is a mix of fruit and ice cream that will send your tastebuds into ecstasy all the way home.